1 / 55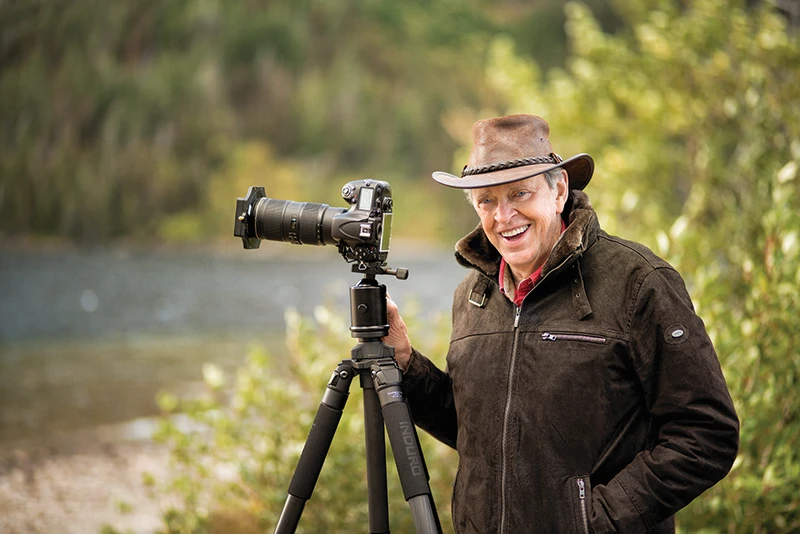 Dr. Stanley loved photography because not only could he see the wonder of God's creation and character, but he could capture it and share it with others.
2 / 55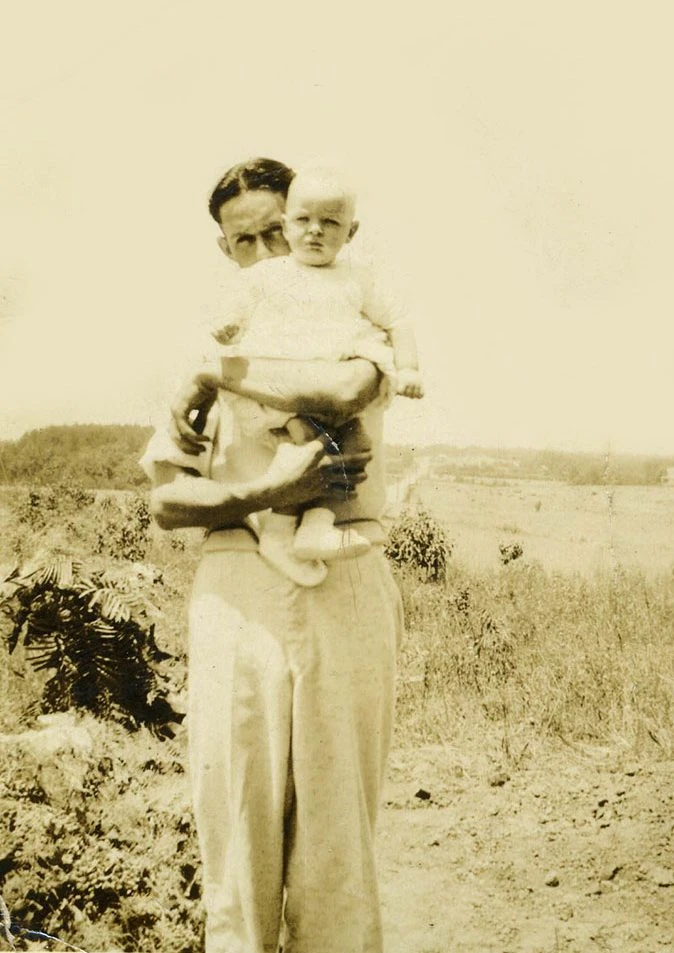 One of the very few photos of Dr. Stanley with his father, Charley Stanley. Charley passed away when Charles was 9 months old.
3 / 55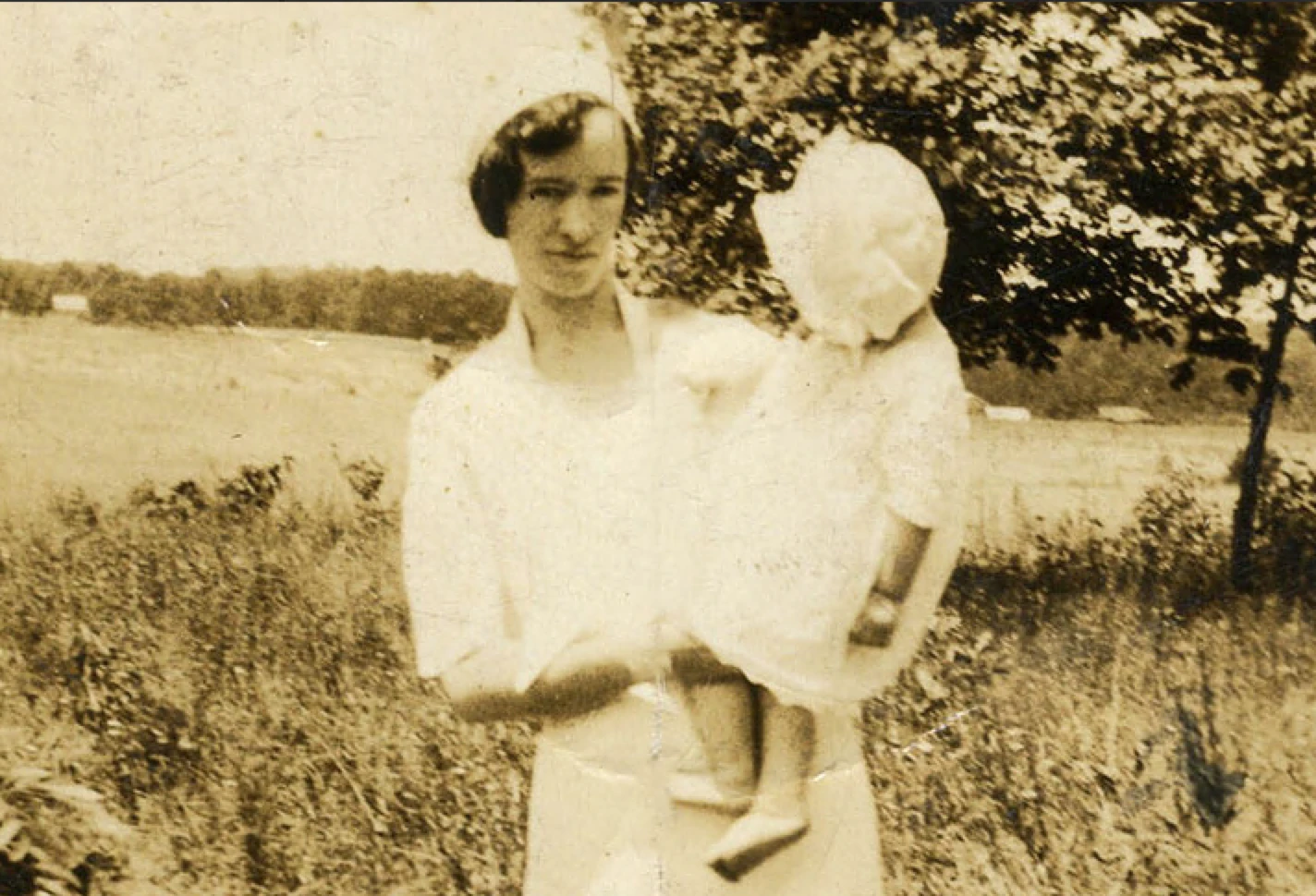 Rebecca holds baby Charles in this photo circa 1933.
4 / 55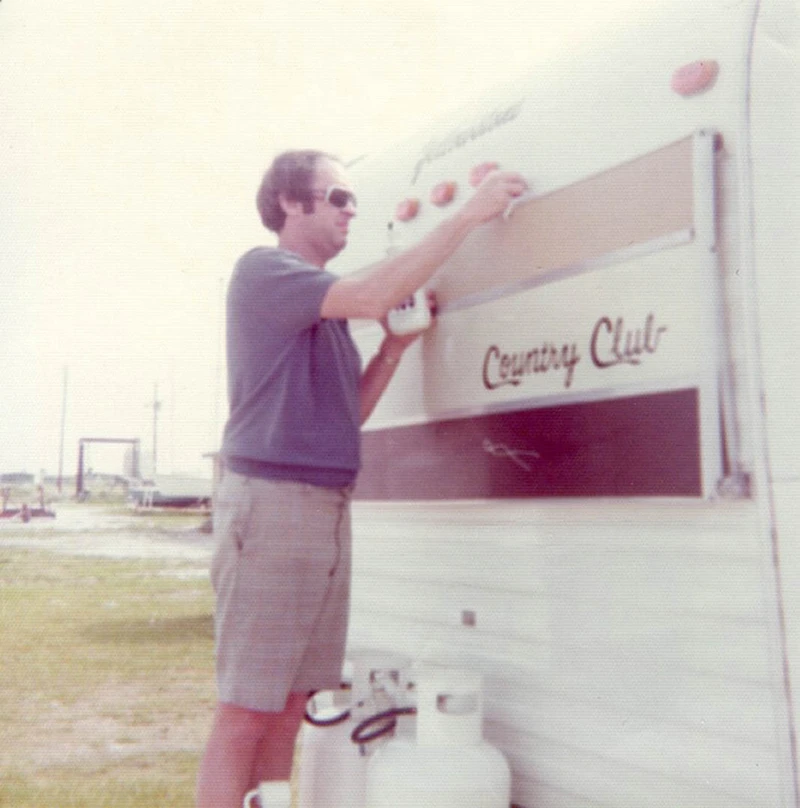 Dr. Stanley getting the family camper ready for a trip. Becky and Andy have often told the story of how one of their family vacations was 5 weeks long!
5 / 55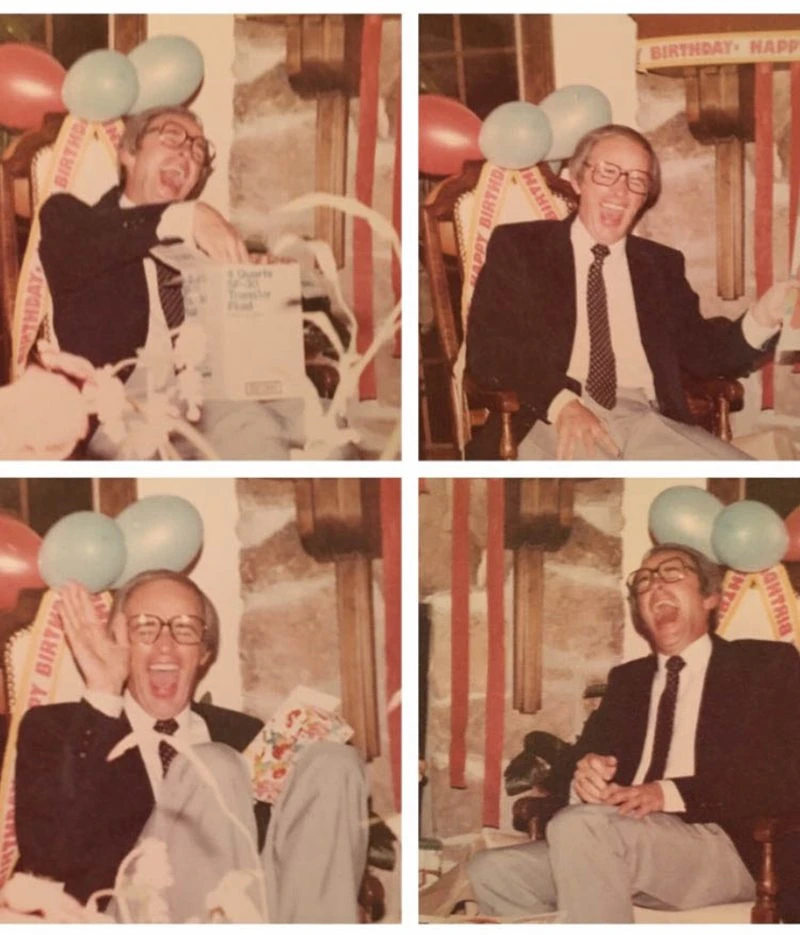 Dr. Stanley always had a wonderful sense of humor. He loved to laugh.
6 / 55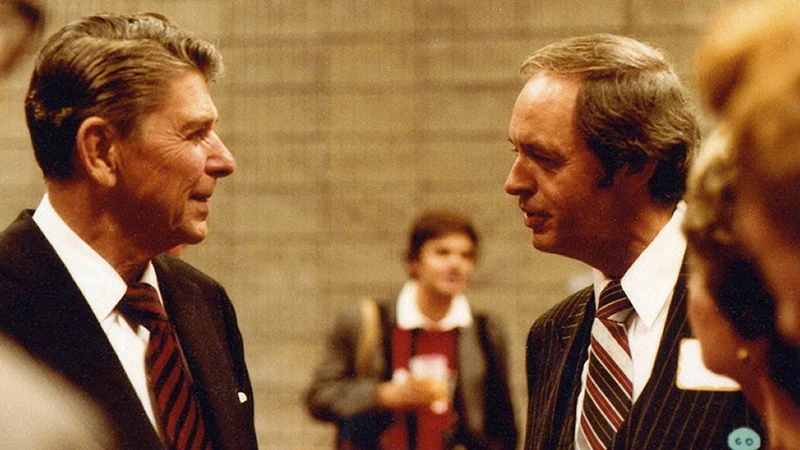 As President of the Southern Baptist Convention, Dr. Stanley had the honor of meeting President Ronald Reagan.
7 / 55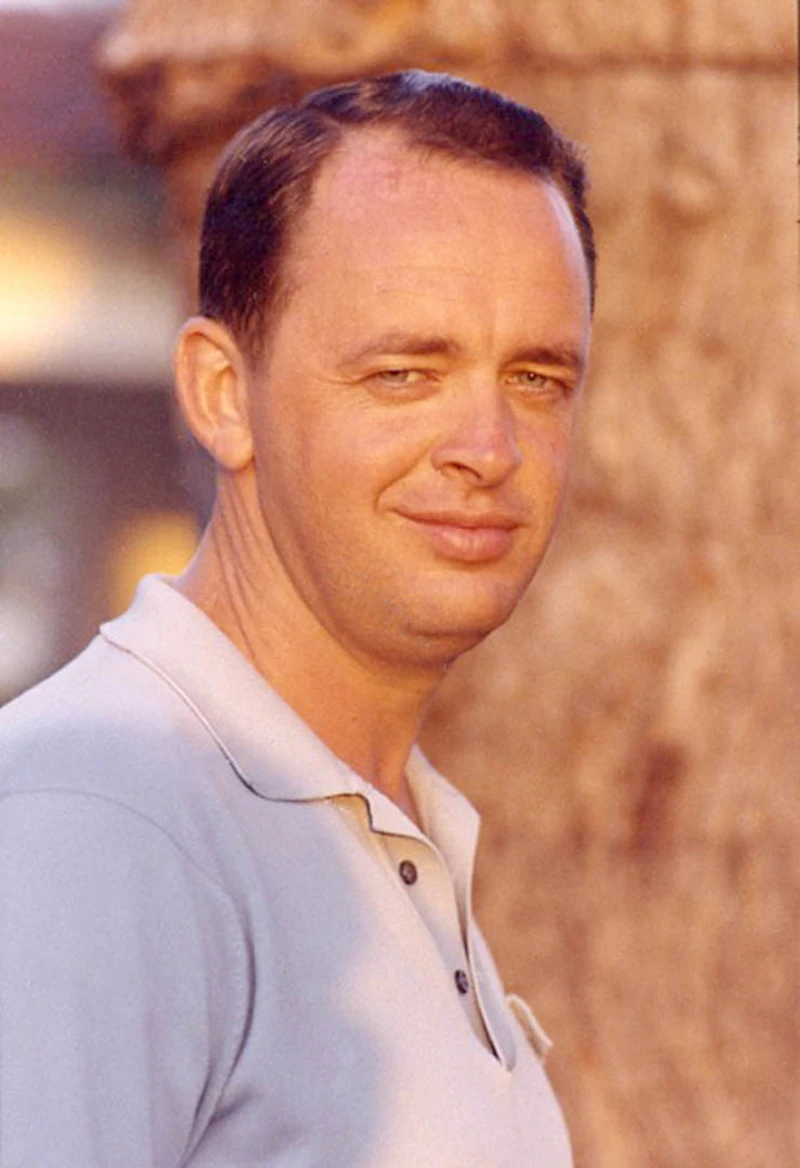 Young Charles with a bright future of serving God ahead of him.
8 / 55
Dr. Stanley and Andy Stanley pray over the globe, asking God for revival and spiritual awakening.
9 / 55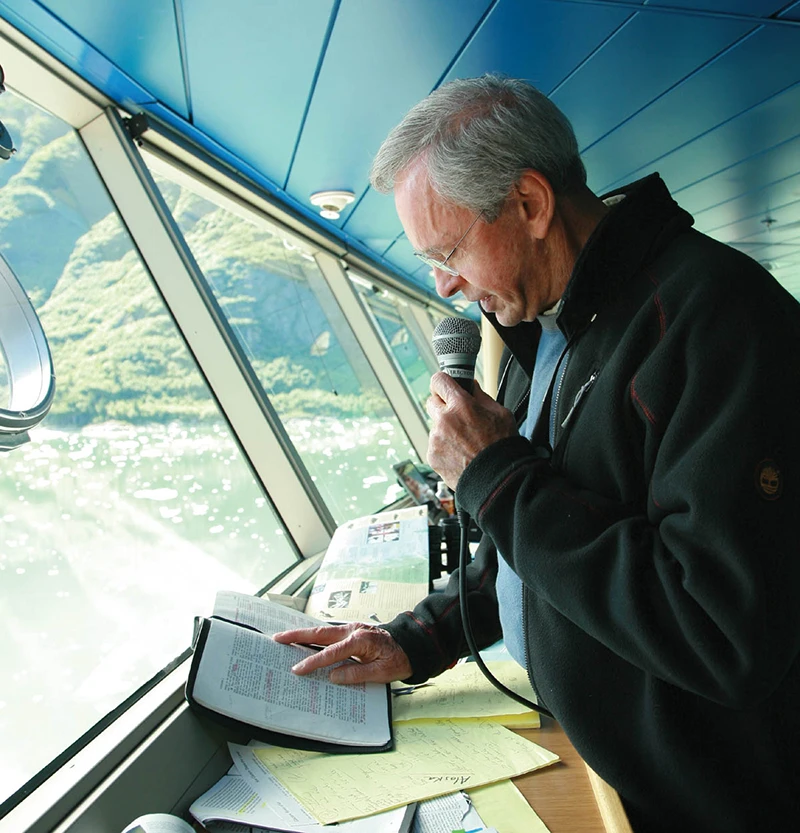 On cruises to Alaska, Dr. Stanley would usually read Genesis 1 over the ship's announcement system to remind voyagers of the awesome God who created the beauty they were seeing.
10 / 55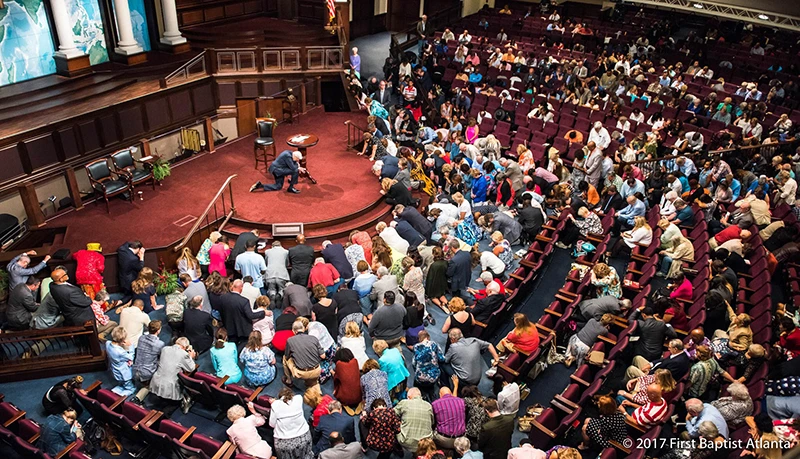 Dr. Stanley leads First Baptist Atlanta in prayer.
11 / 55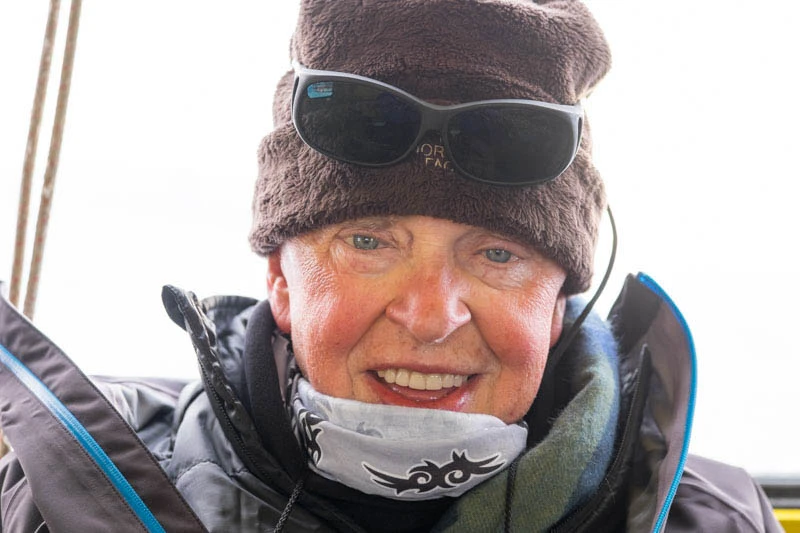 In this photo, Dr. Stanley is visiting Antarctica. With this trip, he achieved his goal of visiting every continent on earth.
12 / 55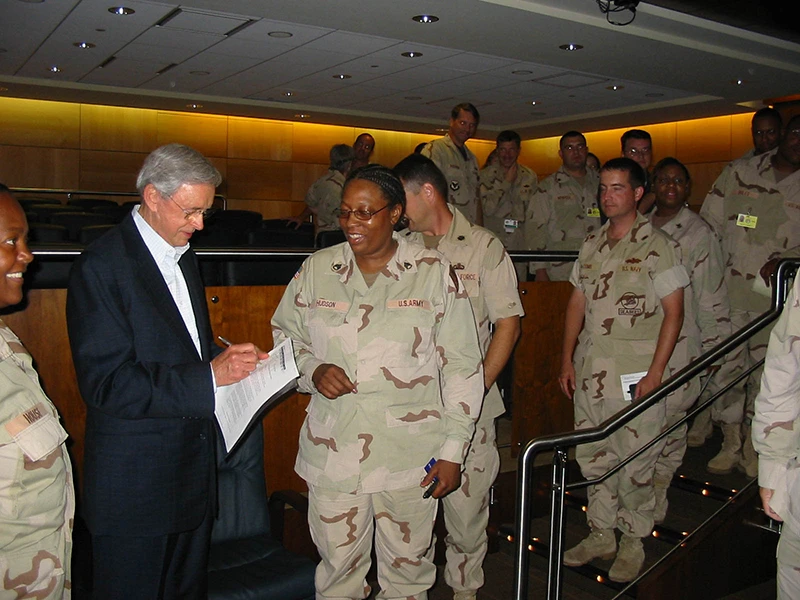 Dr. Stanley was devoted to the military. In May 2007, he launched the Messenger program to encourage all who serve in defense of the nation.
13 / 55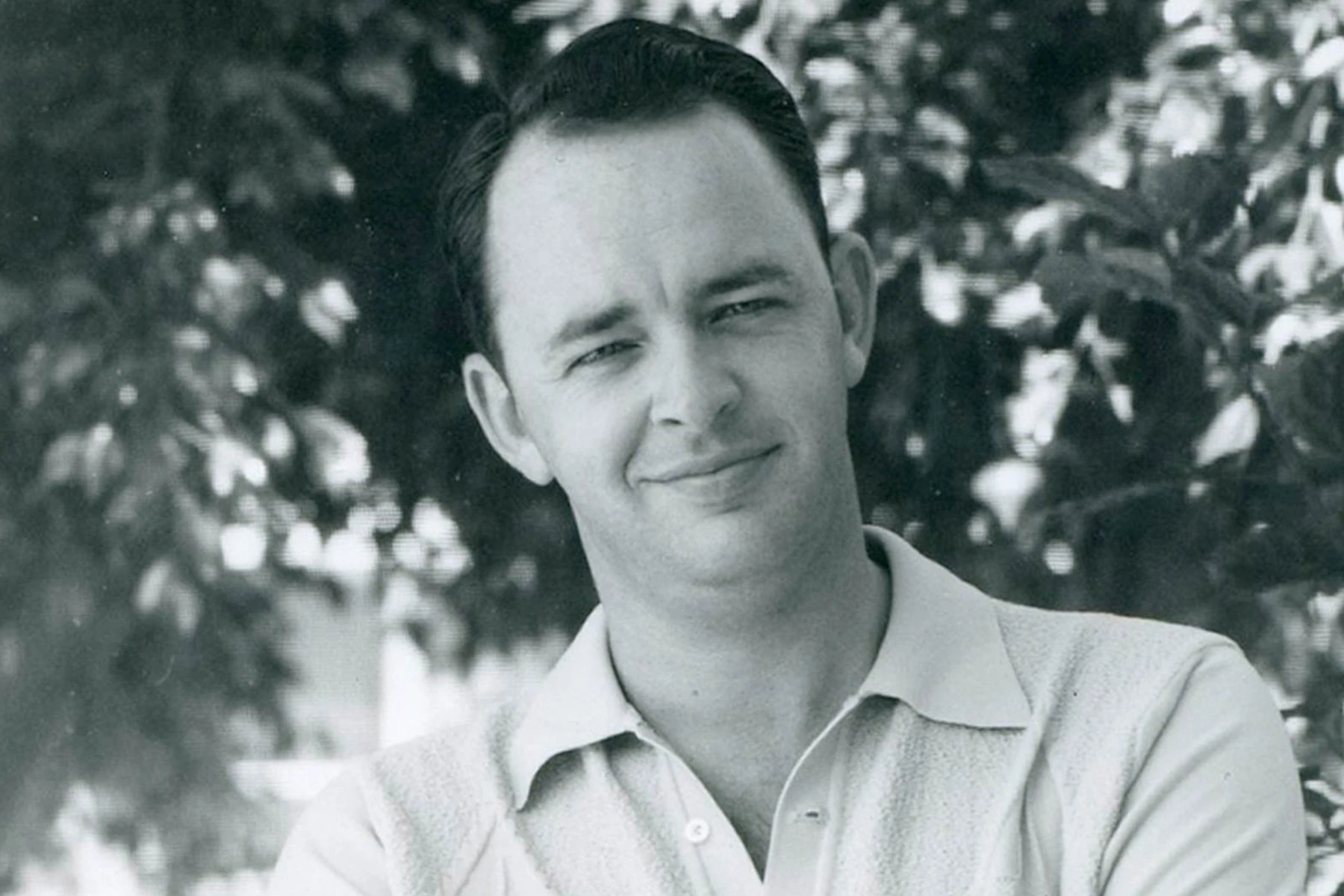 Young Charles Stanley.
14 / 55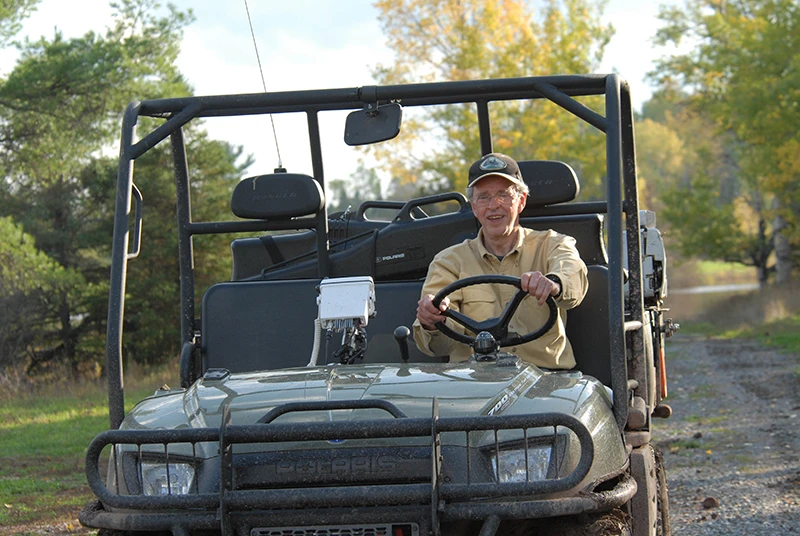 Dr. Stanley enjoying his ride on a photography trip.
15 / 55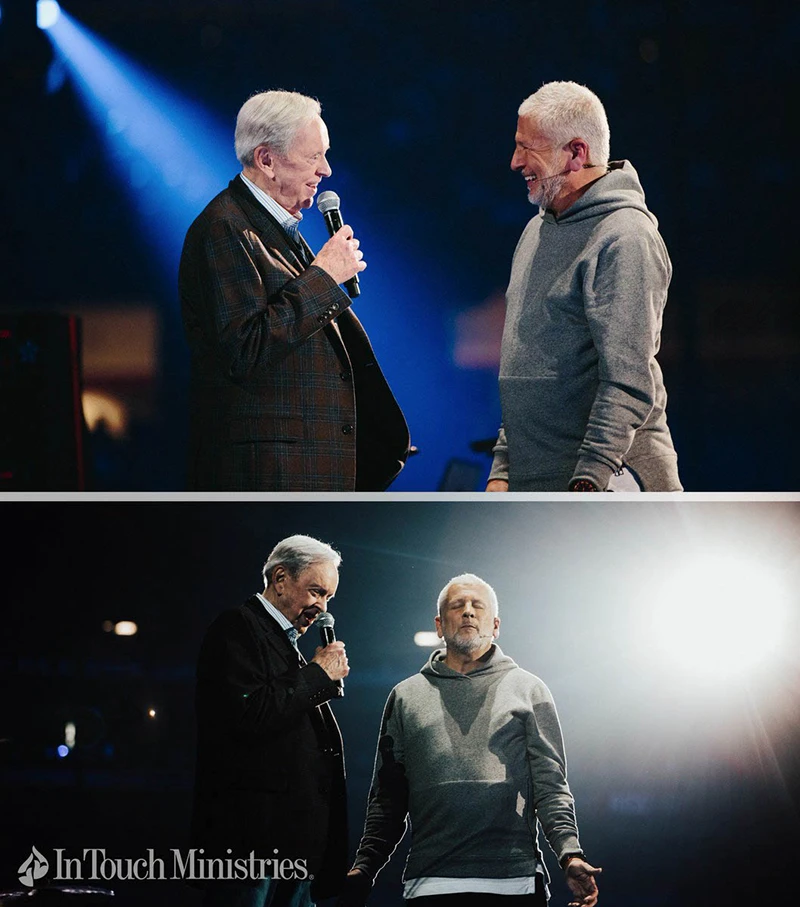 In 2017, Dr. Stanley prayed with Louie Giglio for the thousands of college students attending the Passion Conference.
16 / 55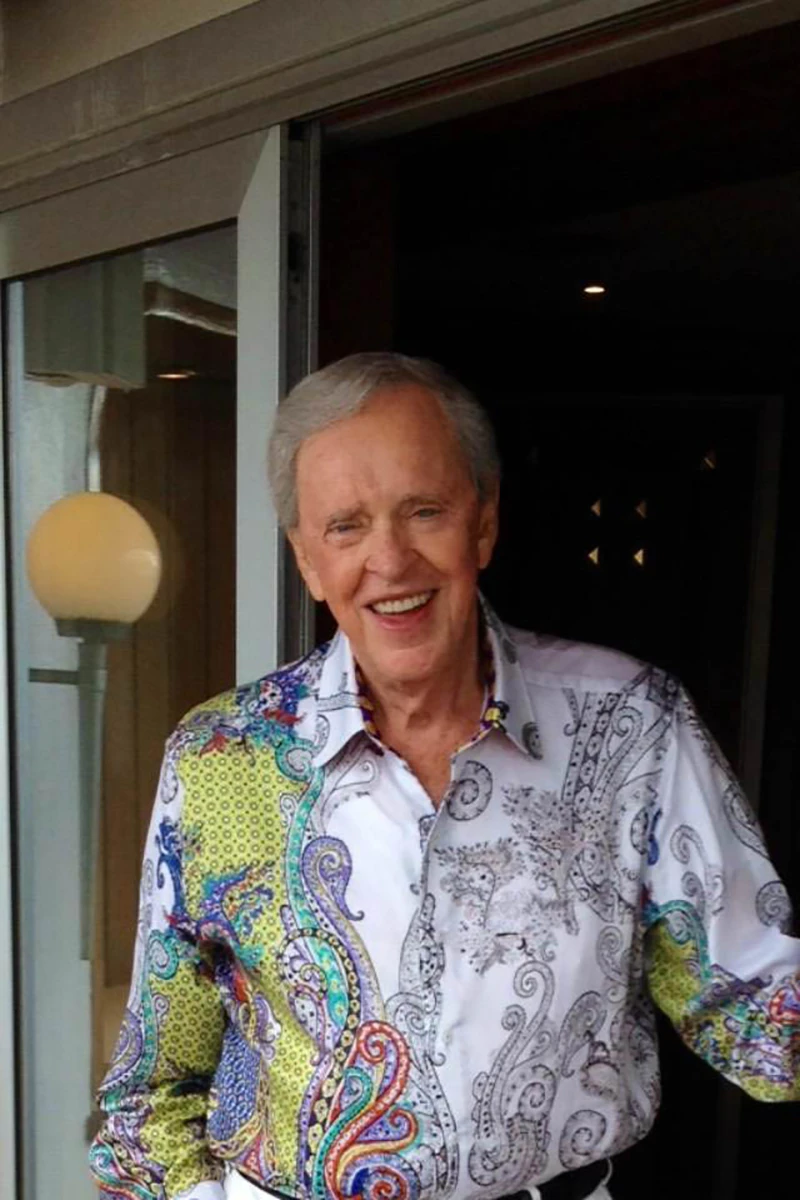 Most of us are used to seeing Dr. Stanley in his signature suits, but he had some wonderfully colorful shirts.
17 / 55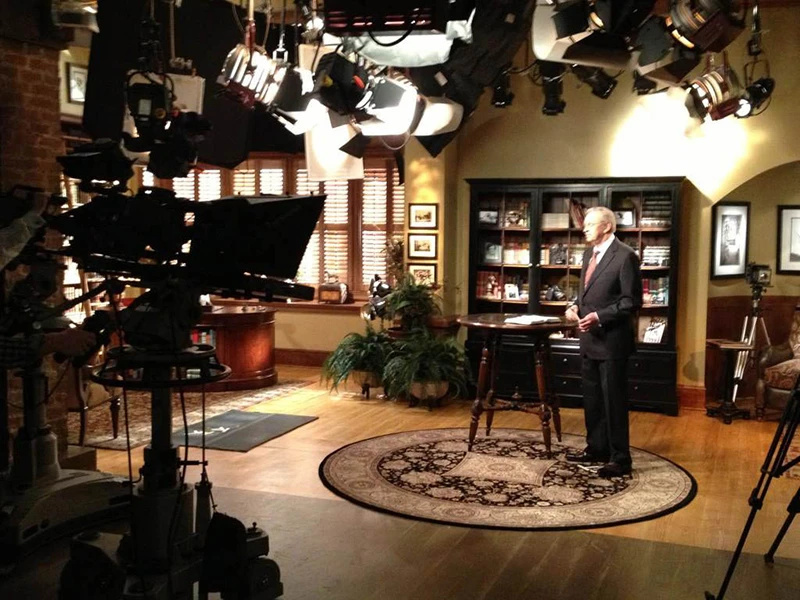 Behind the scenes of "Ask Dr. Stanley."
18 / 55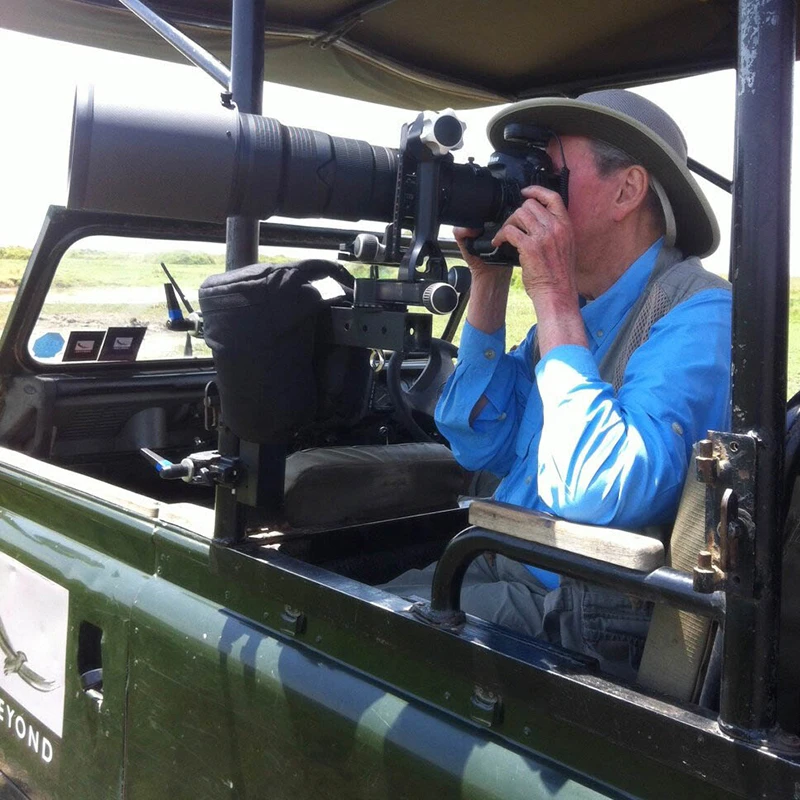 Dr. Stanley on a photographic trip in Africa.
19 / 55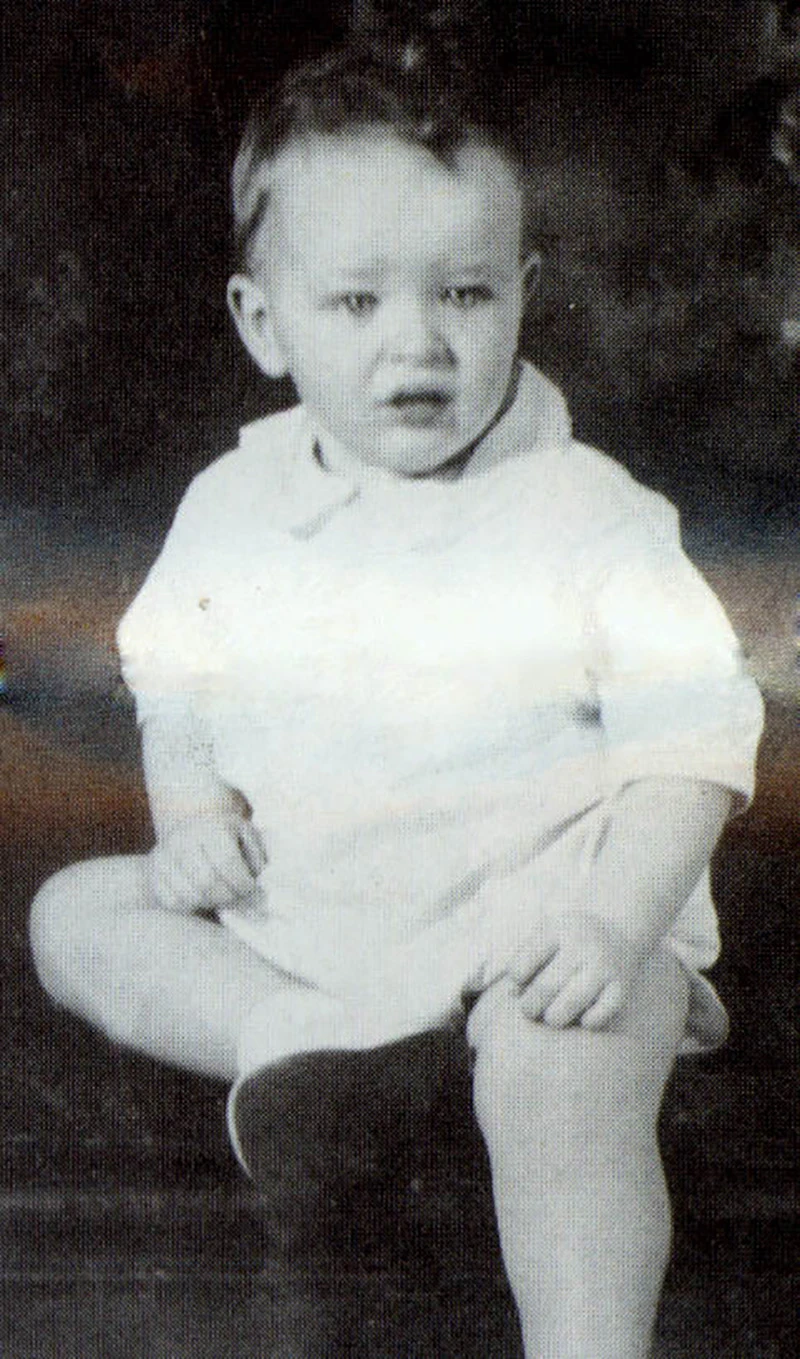 Dr. Charles Stanley when he was a baby.
20 / 55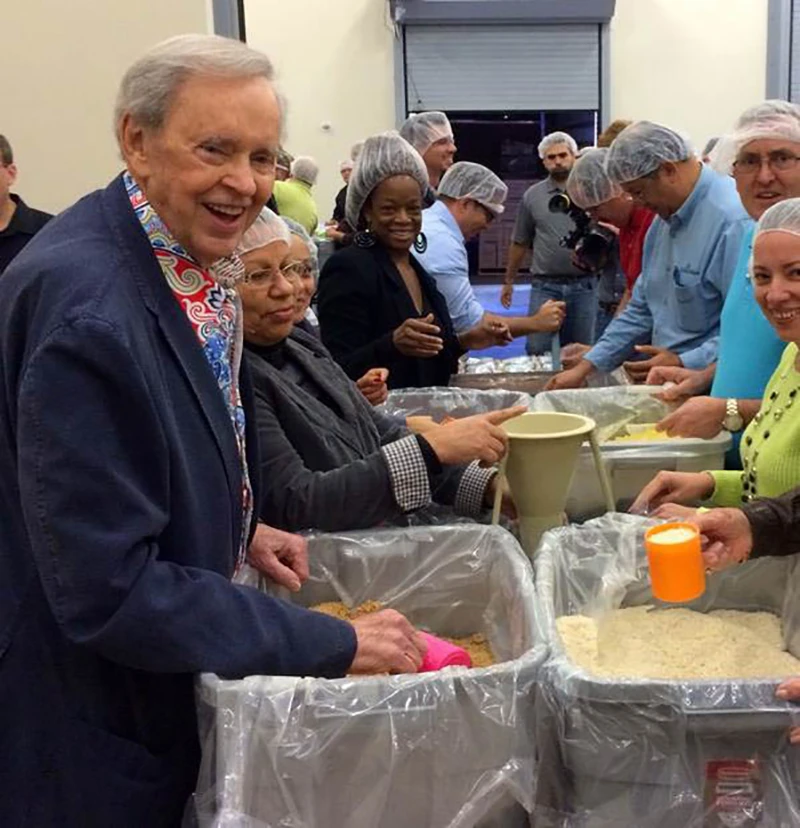 Dr. Stanley and the In Touch team pack food for orphans in Haiti.
21 / 55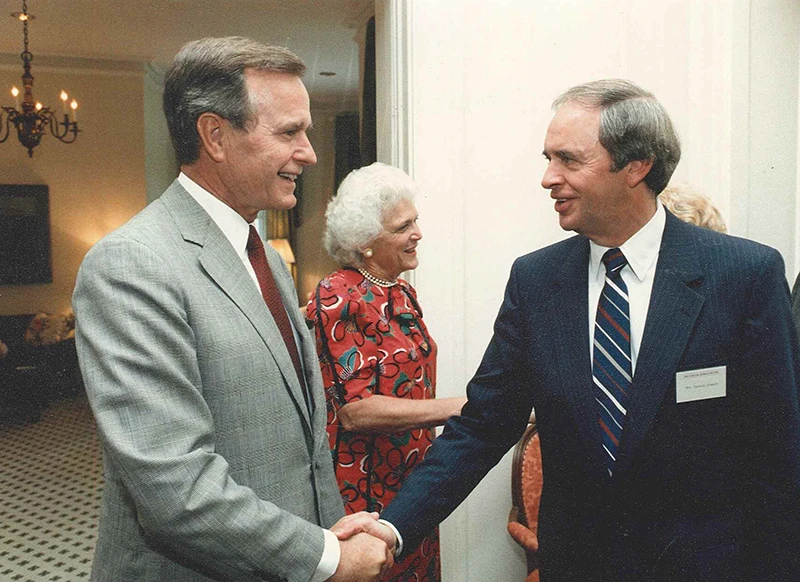 President Bush and his wife Barbara visited First Baptist and met with Dr. Stanley.
22 / 55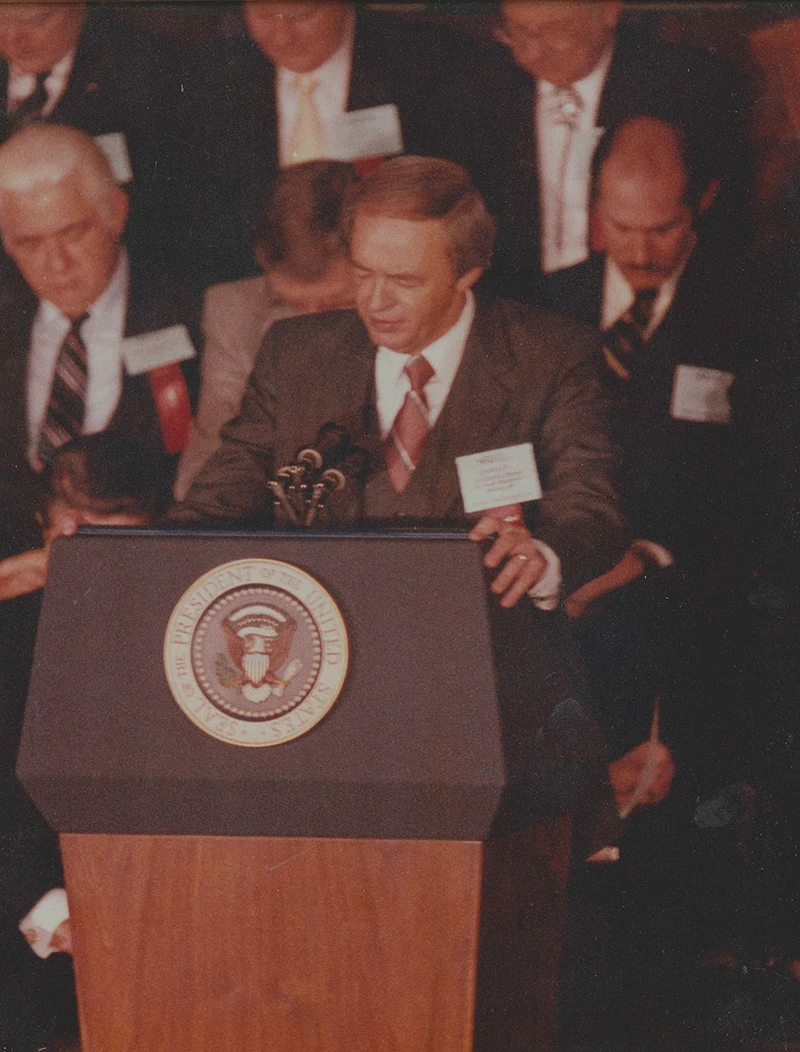 In this undated photo, Dr. Stanley prays to God on behalf of the nation and our leaders.
23 / 55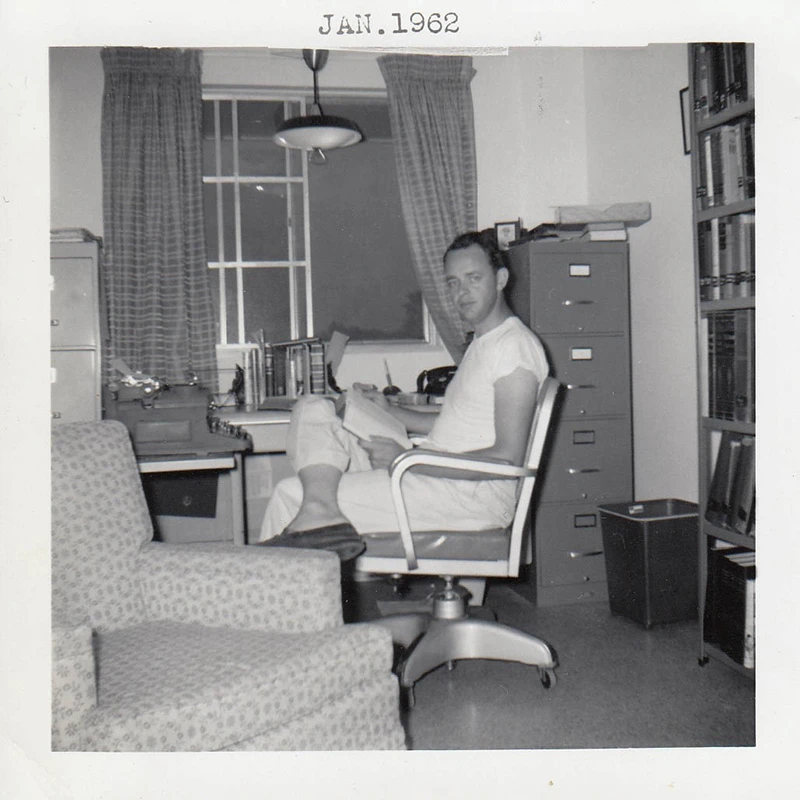 Ever the conscientious student, Dr. Stanley always took the command of 2 Tim. 2:15 seriously: "Study to shew thyself approved unto God . . . rightly dividing the word of truth." (KJV)
24 / 55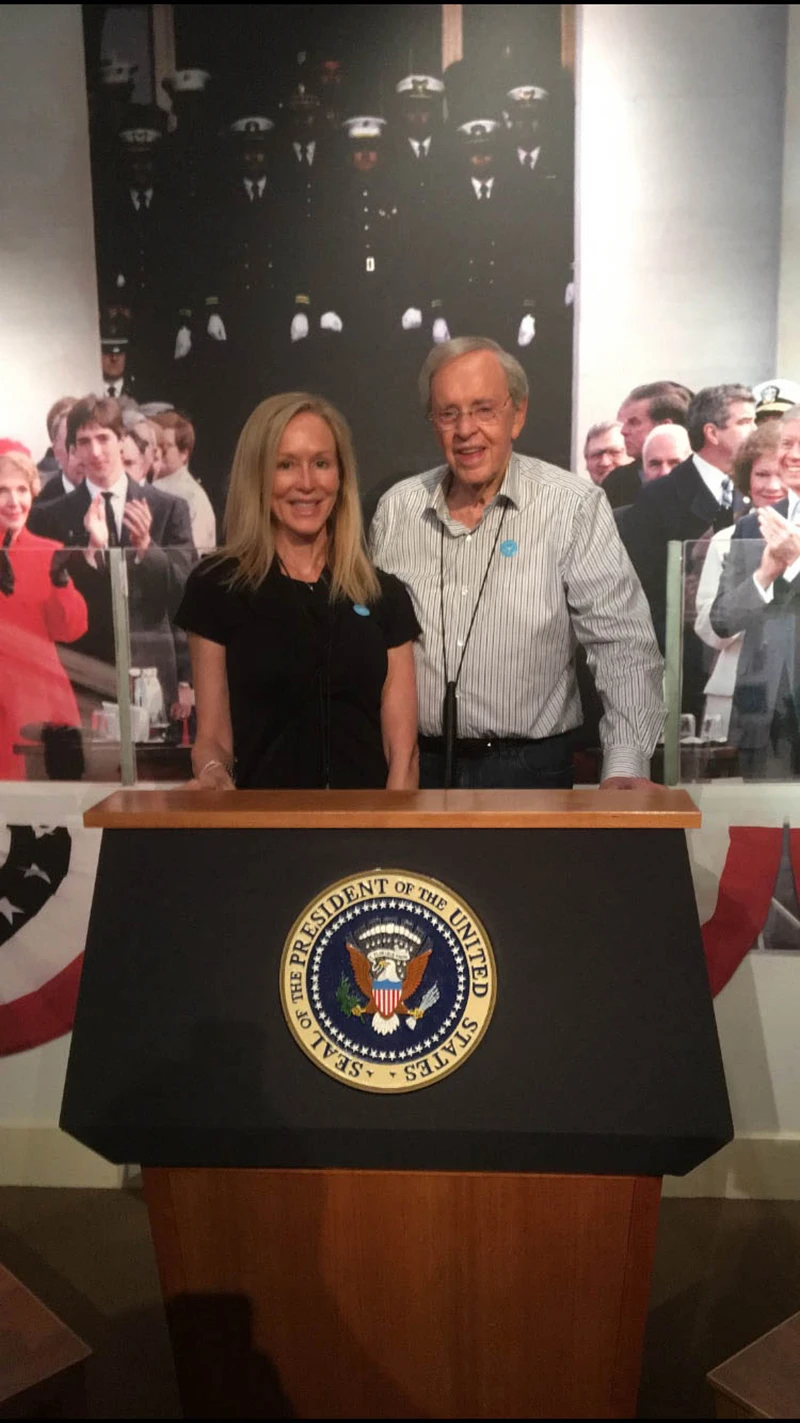 Dr. Stanley and his daughter Becky at The Ronald Reagan Presidential Library and Museum
25 / 55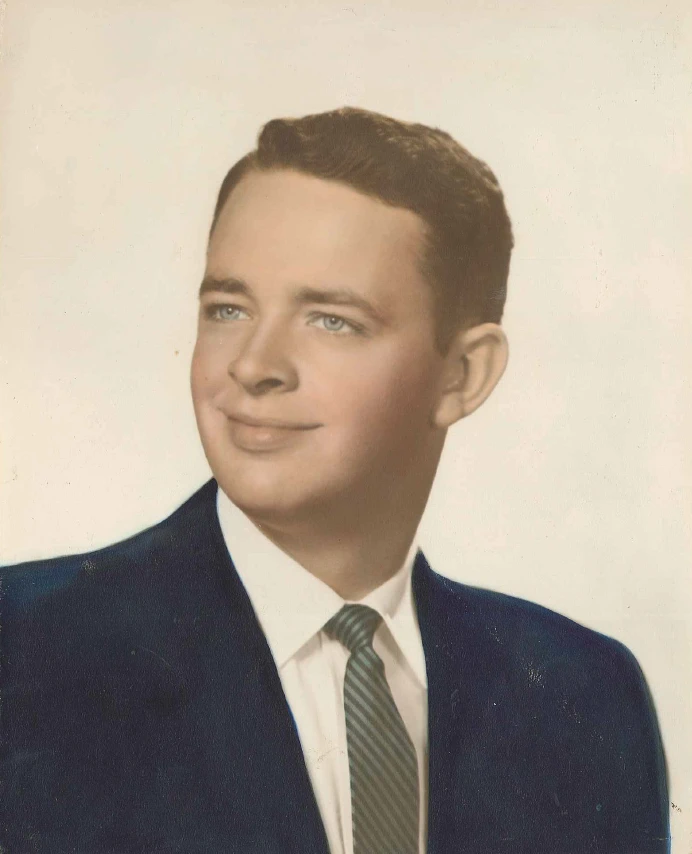 When Dr. Stanley first started preaching, his mother encouraged him with Joshua 1:7–9.
26 / 55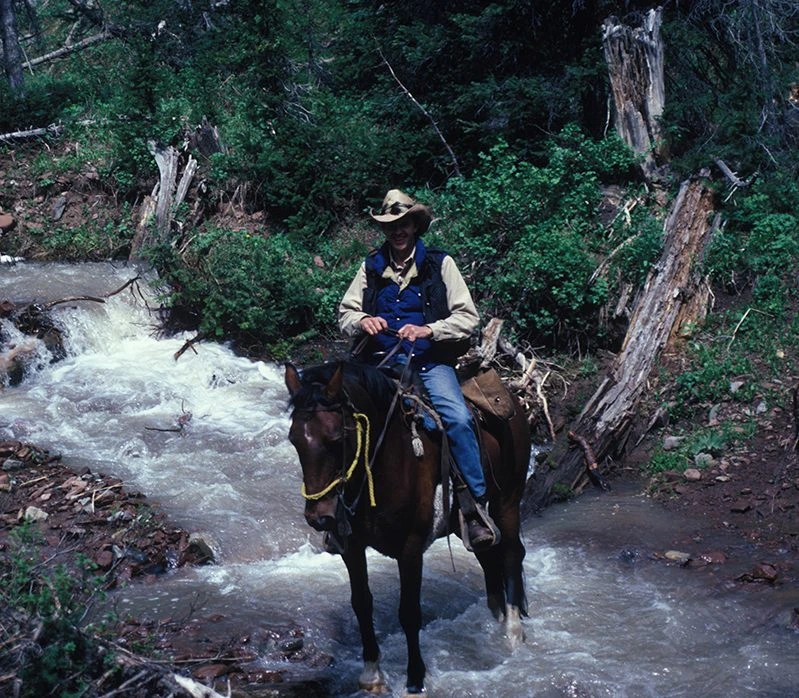 Dr. Stanley often went horseback riding and camping with friends.
27 / 55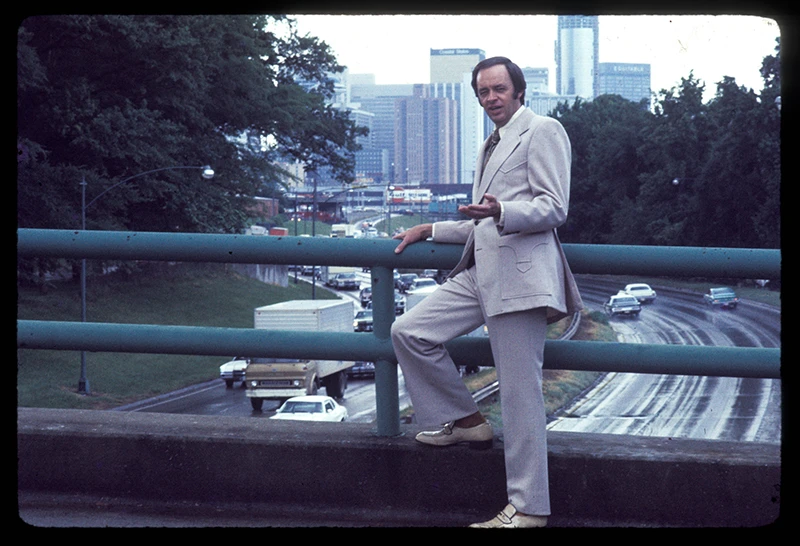 Dr. Stanley always wanted to make sure the Word of God got outside the walls of the church.
28 / 55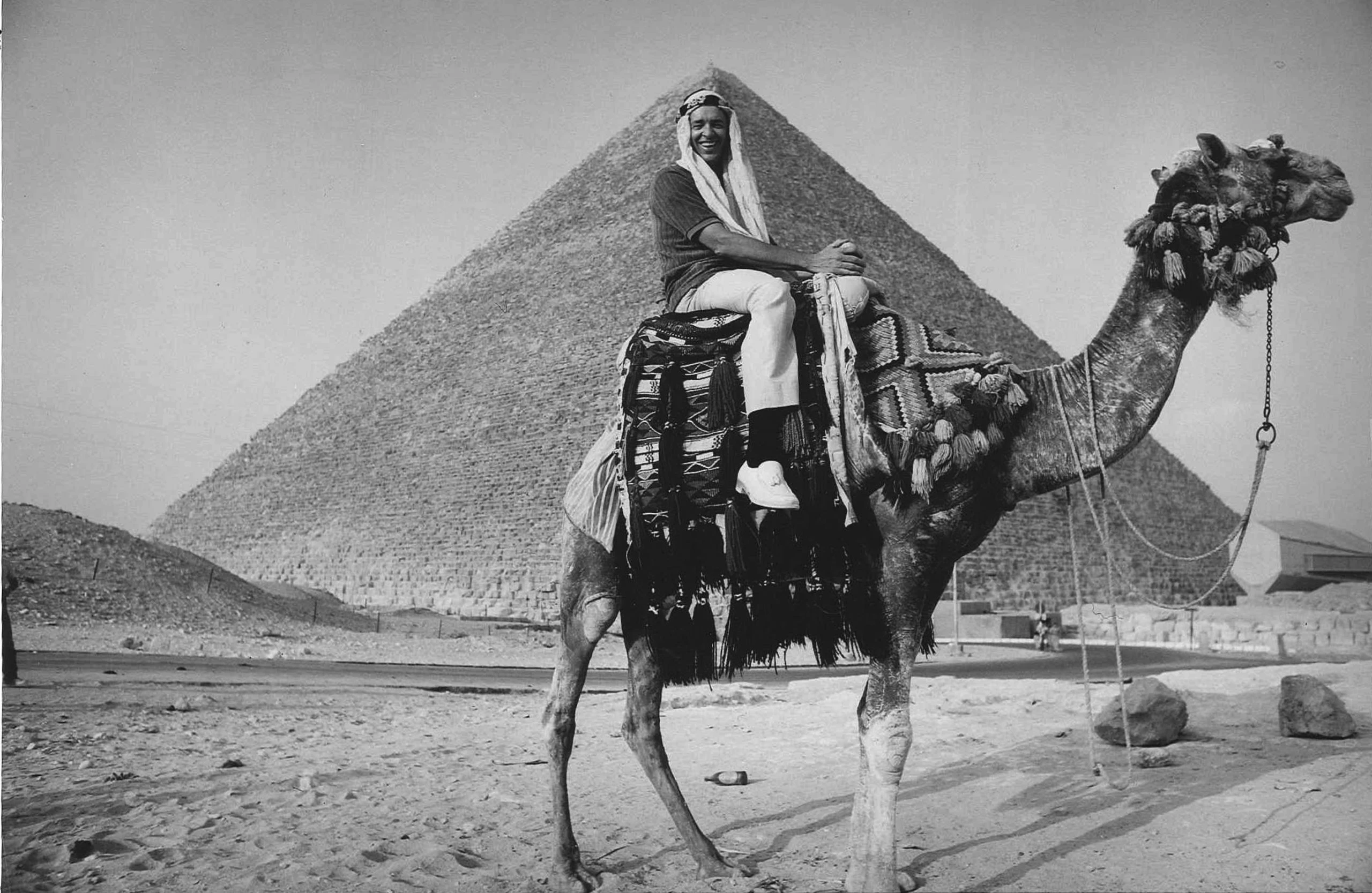 Dr. Stanley loved a good adventure. On a trip to Egypt, he made the most of an opportunity to take a ride on a camel.
29 / 55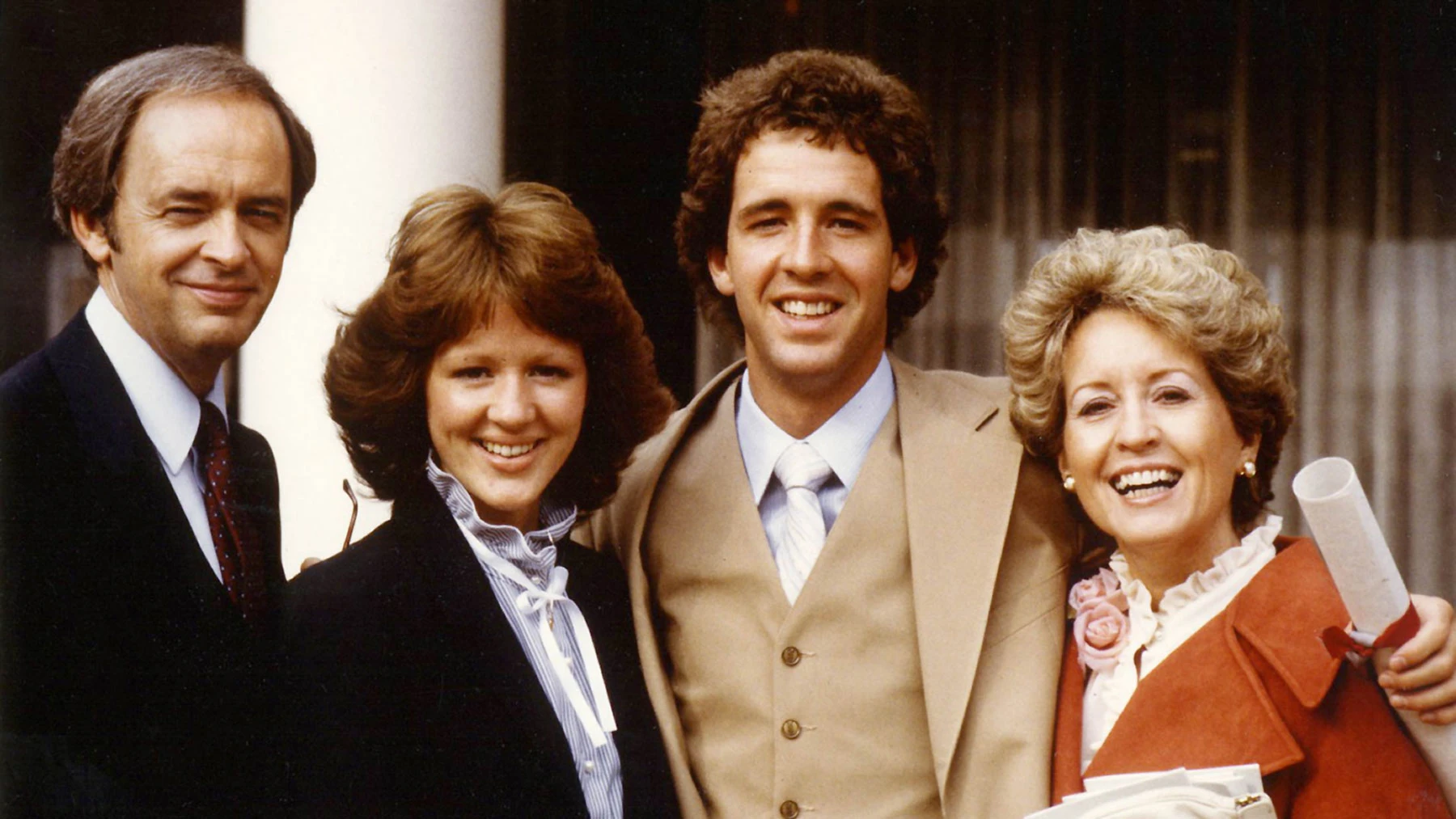 The Stanley family celebrating Andy's graduation.
30 / 55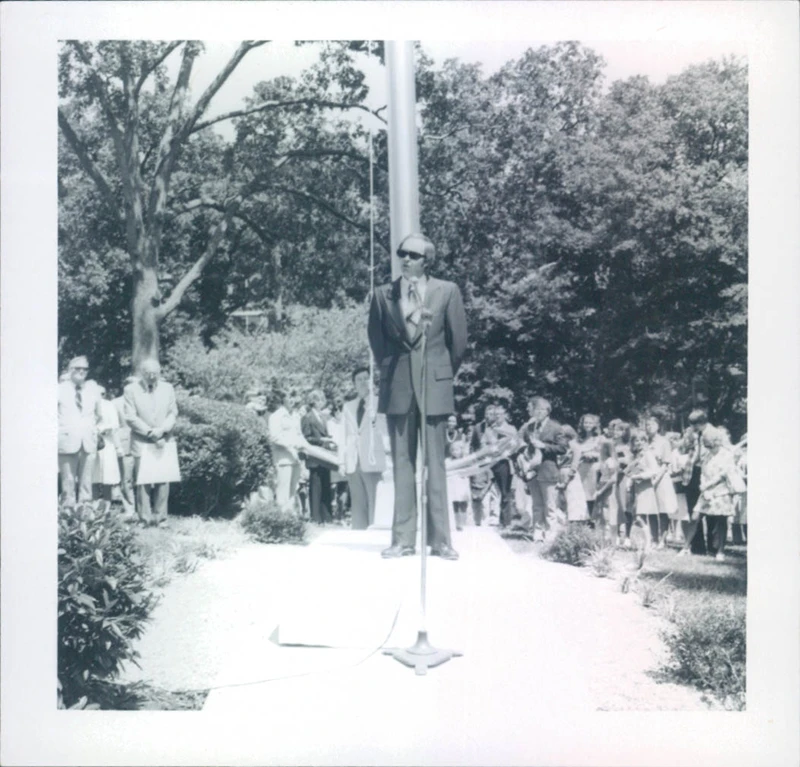 Dr. Stanley took every opportunity to preach the gospel.
31 / 55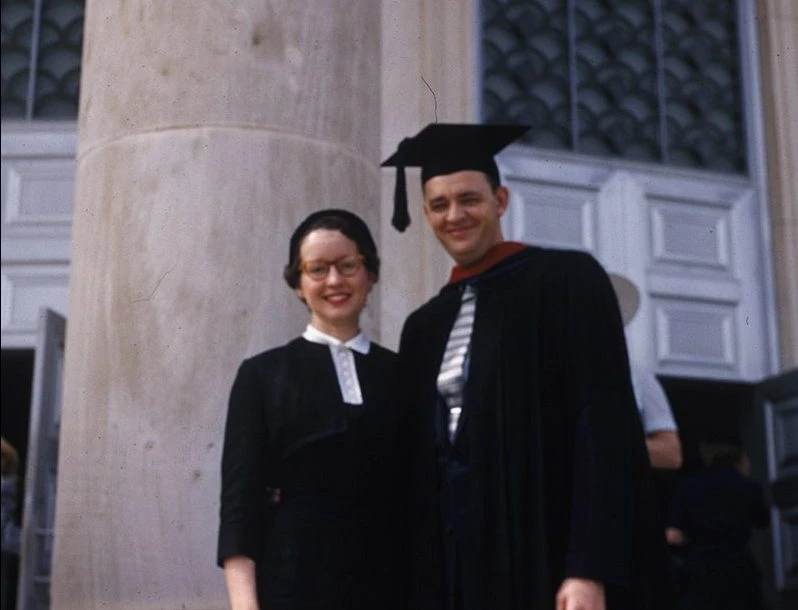 Dr. Stanley and his wife, Anna, at his graduation from Southwestern Baptist Theological Seminary.
32 / 55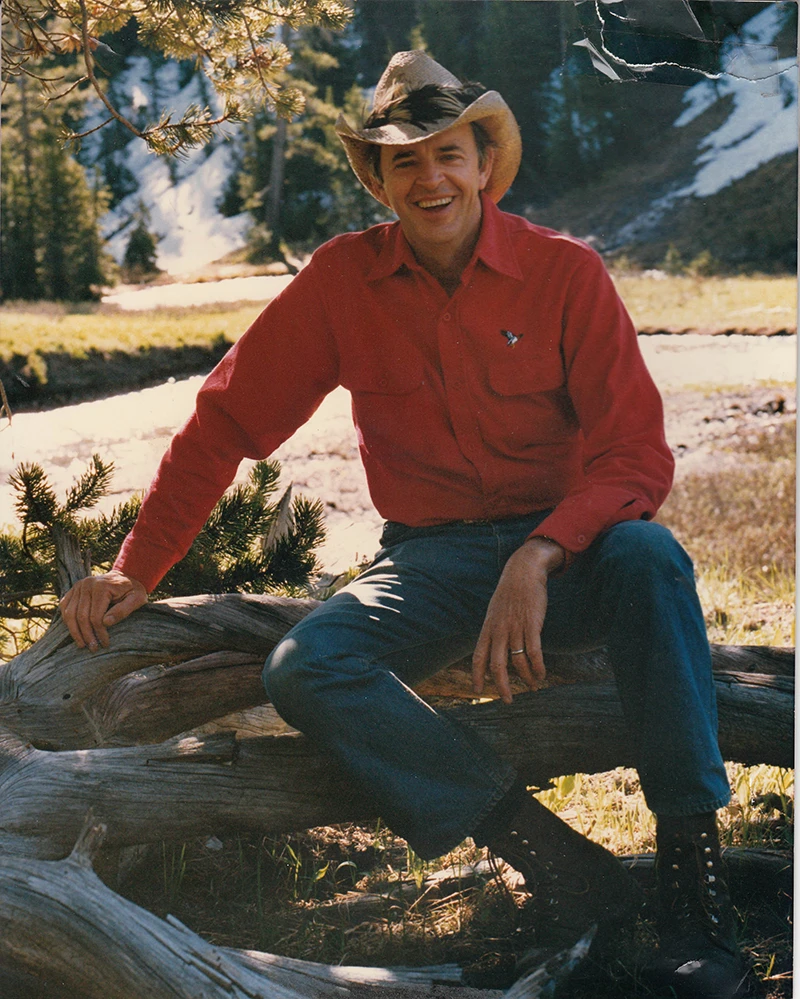 Dr. Stanley enjoyed watching movies about cowboys and World War II.
33 / 55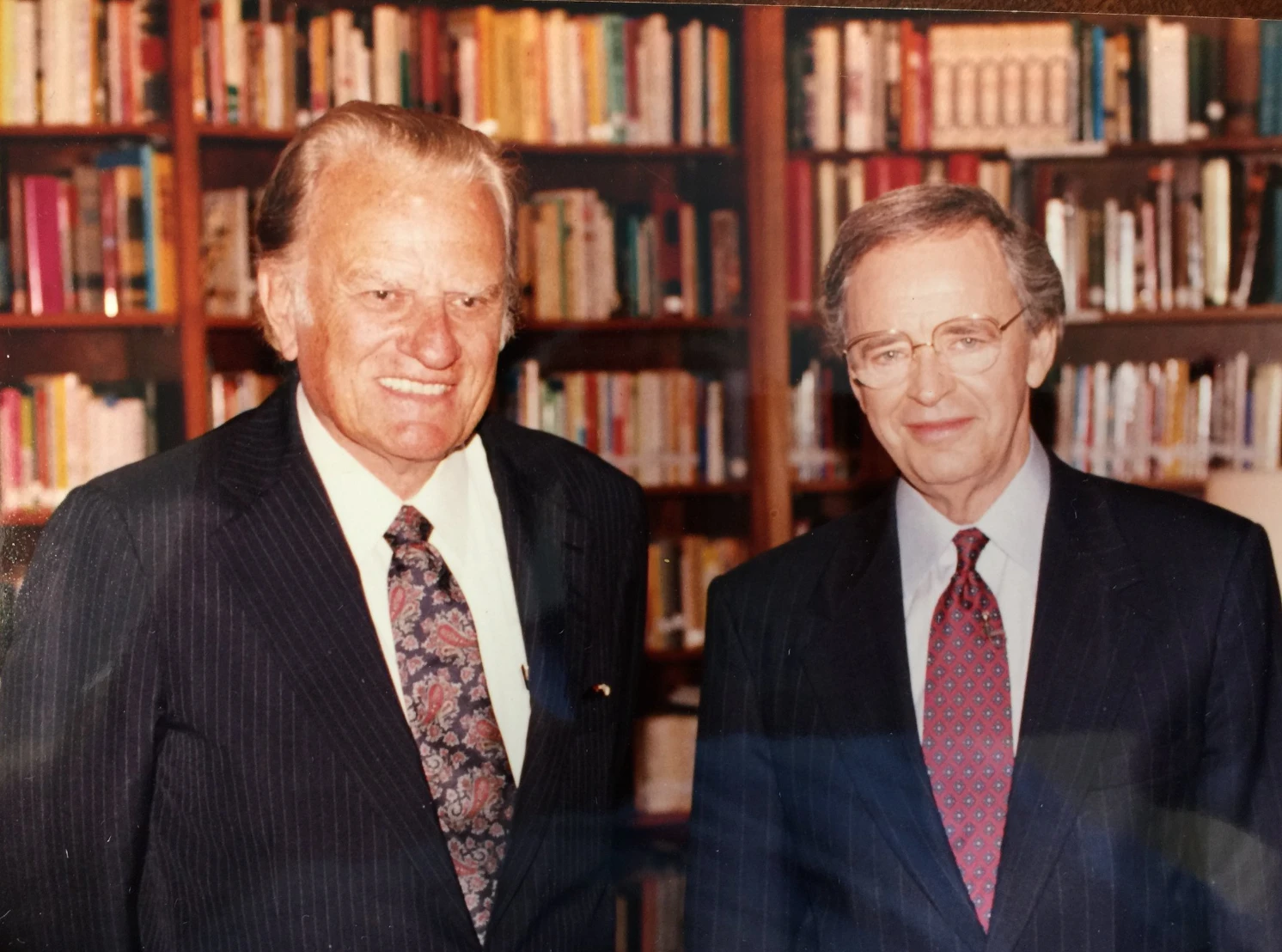 A historic meeting between two anointed men of God - Billy Graham and Charles Stanley.
34 / 55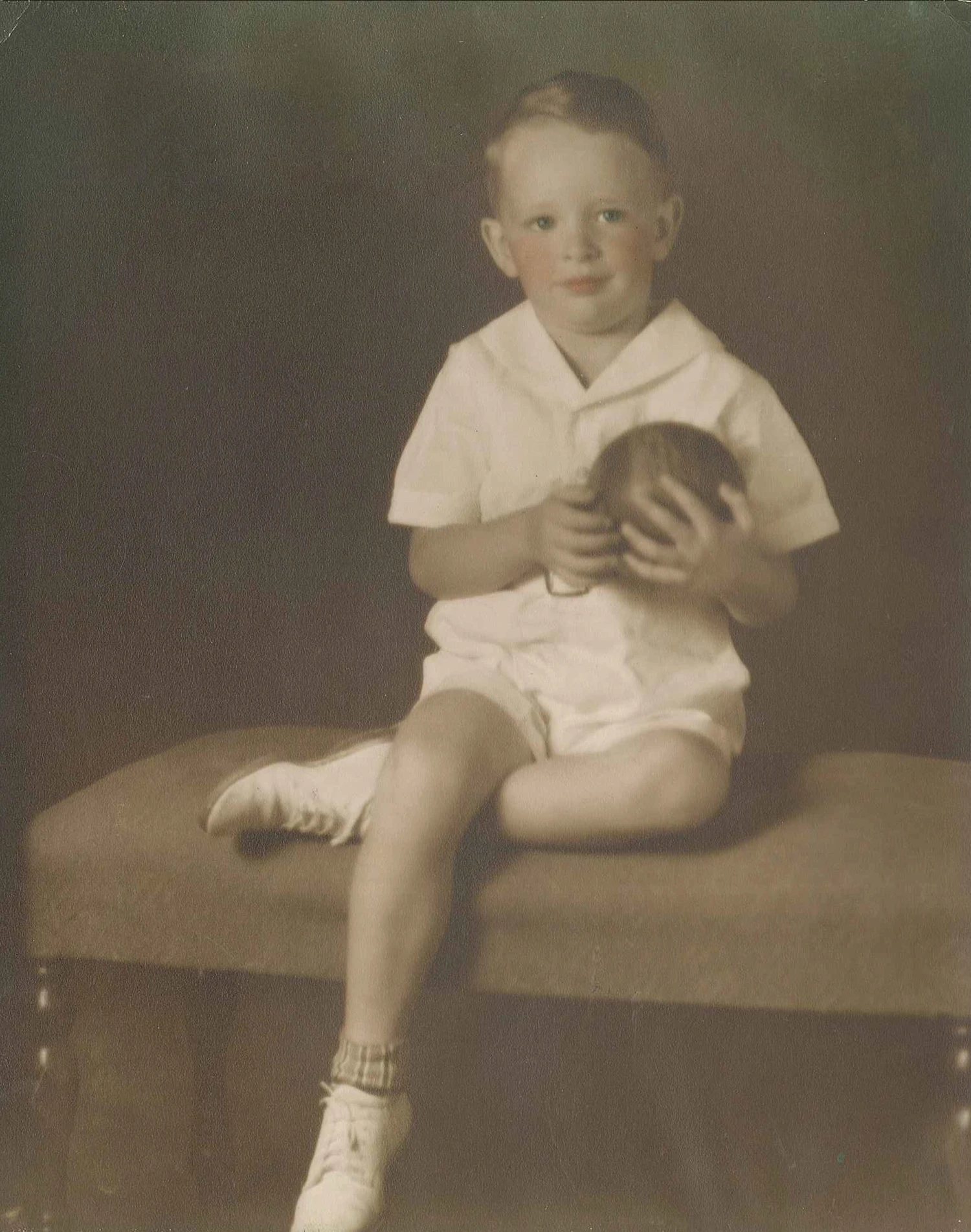 Charles - young and full of promise.
35 / 55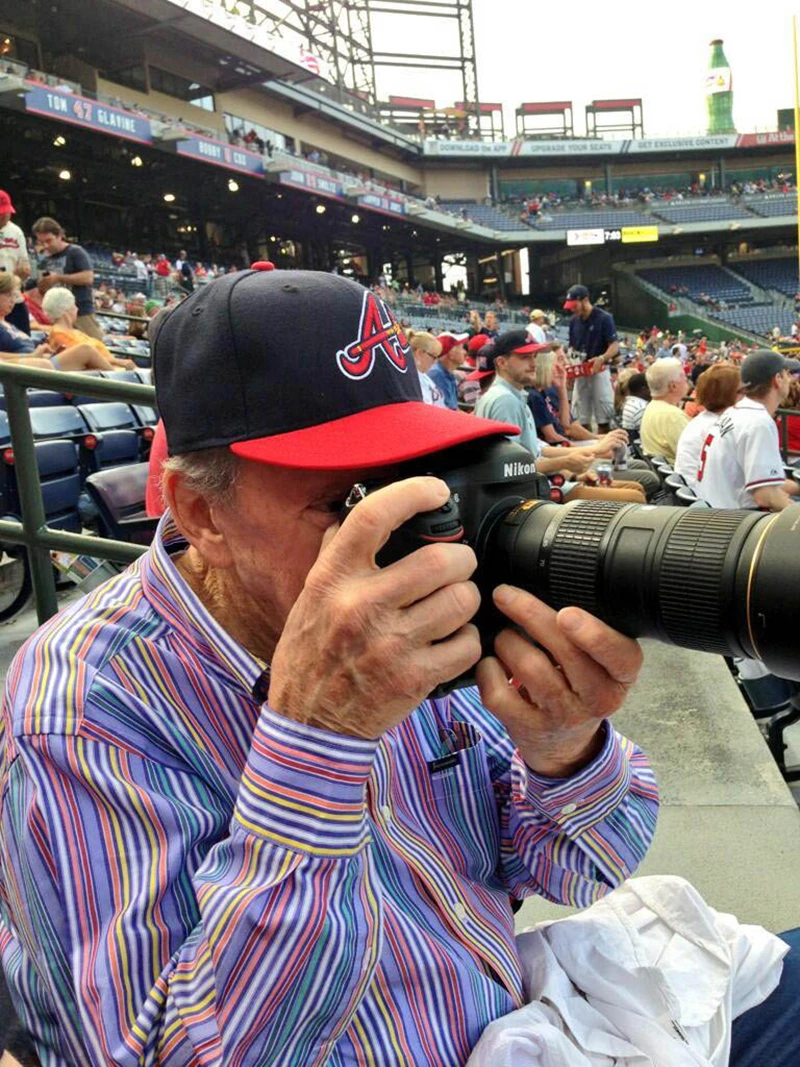 Yes, Dr. Stanley liked to take his camera everywhere – even ballgames.
36 / 55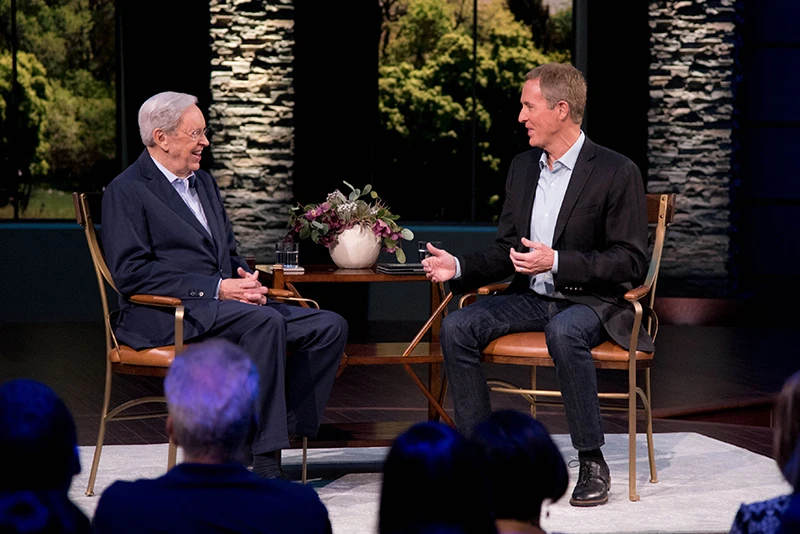 Dr. Stanley and his son Andy have a wonderful discussion about faith for an In Touch broadcast.
37 / 55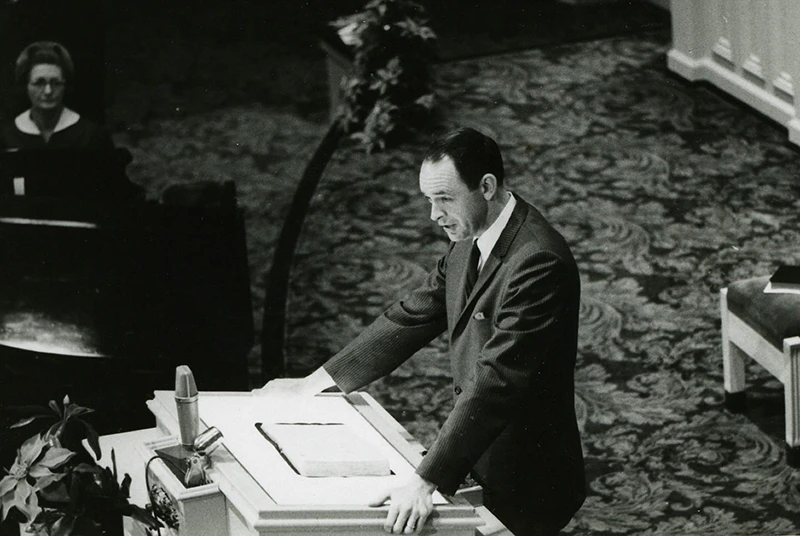 During the difficult early years at First Baptist Atlanta, God often reminded Dr. Stanley to keep his eyes on Jesus rather than his circumstances. That was key to him overcoming those early challenges.
38 / 55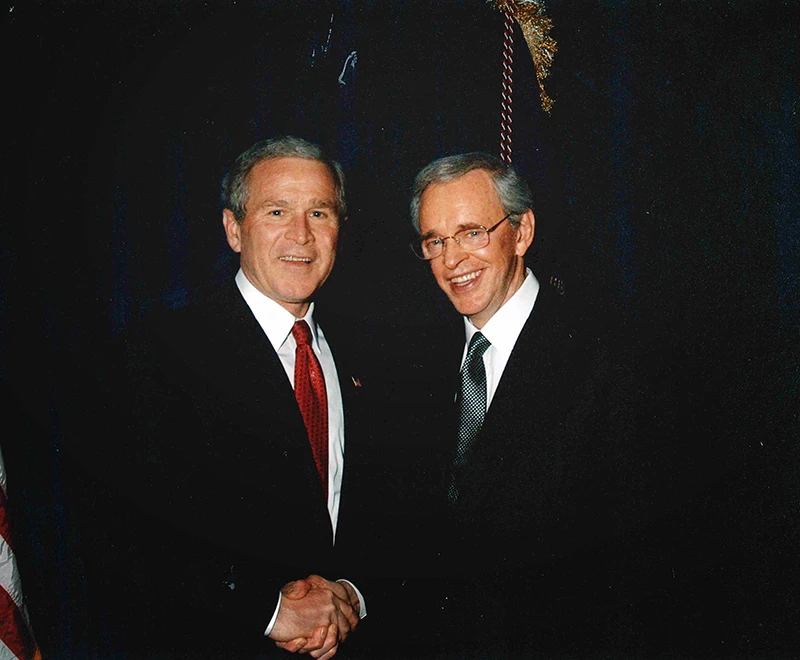 In an interview, President Bush said he would read Dr. Stanley's daily devotions for inspiration.
39 / 55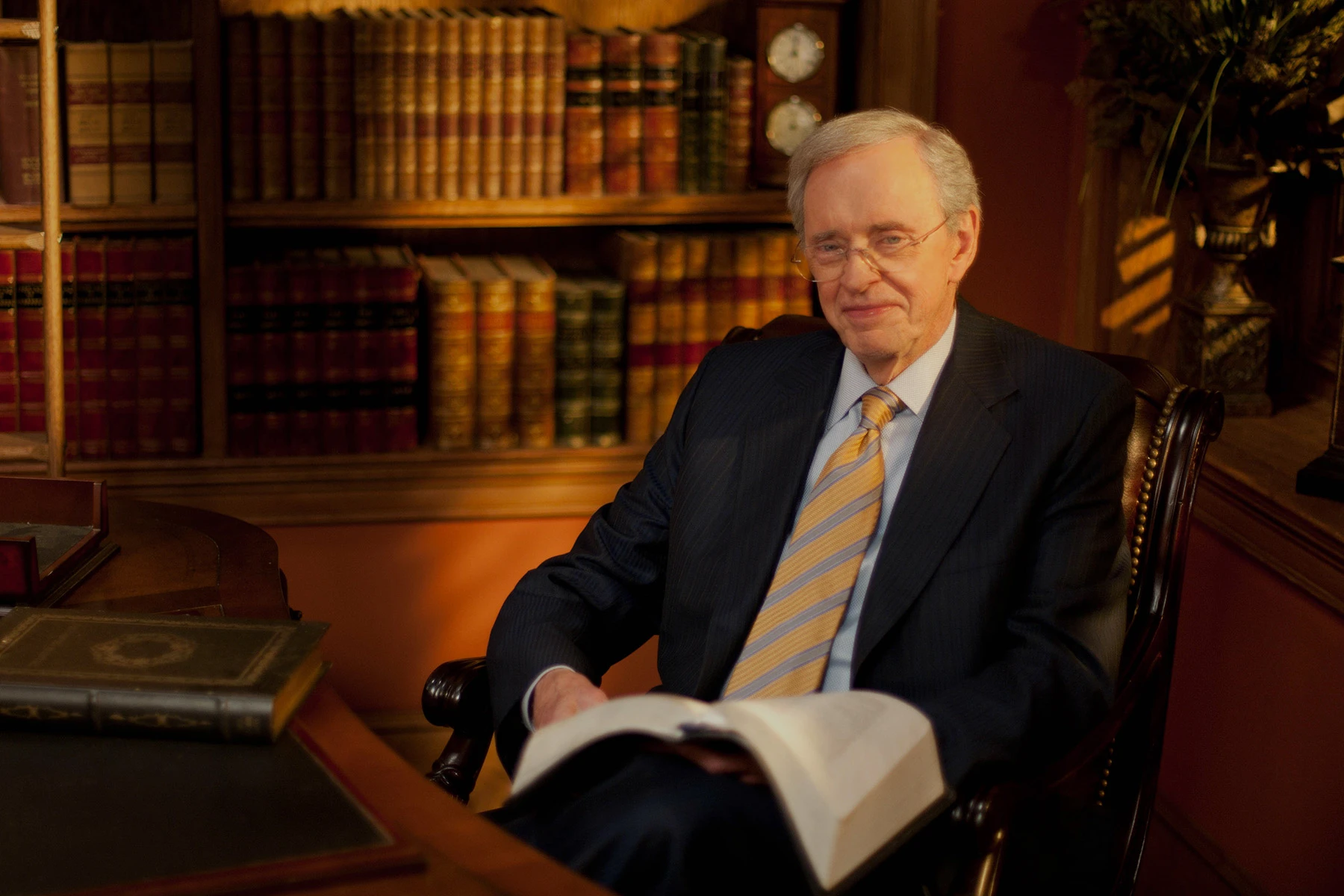 Dr. Stanley loved to read and study the Word so he could know Christ better, serve Him obediently, and minister to others effectively.
40 / 55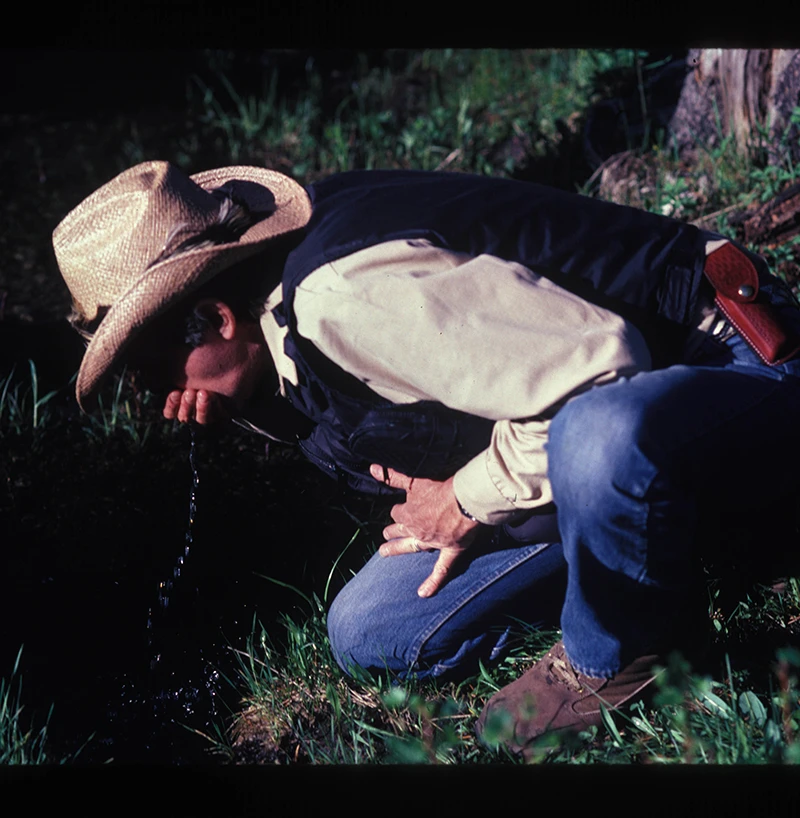 Dr. Stanley on a camping trip.
41 / 55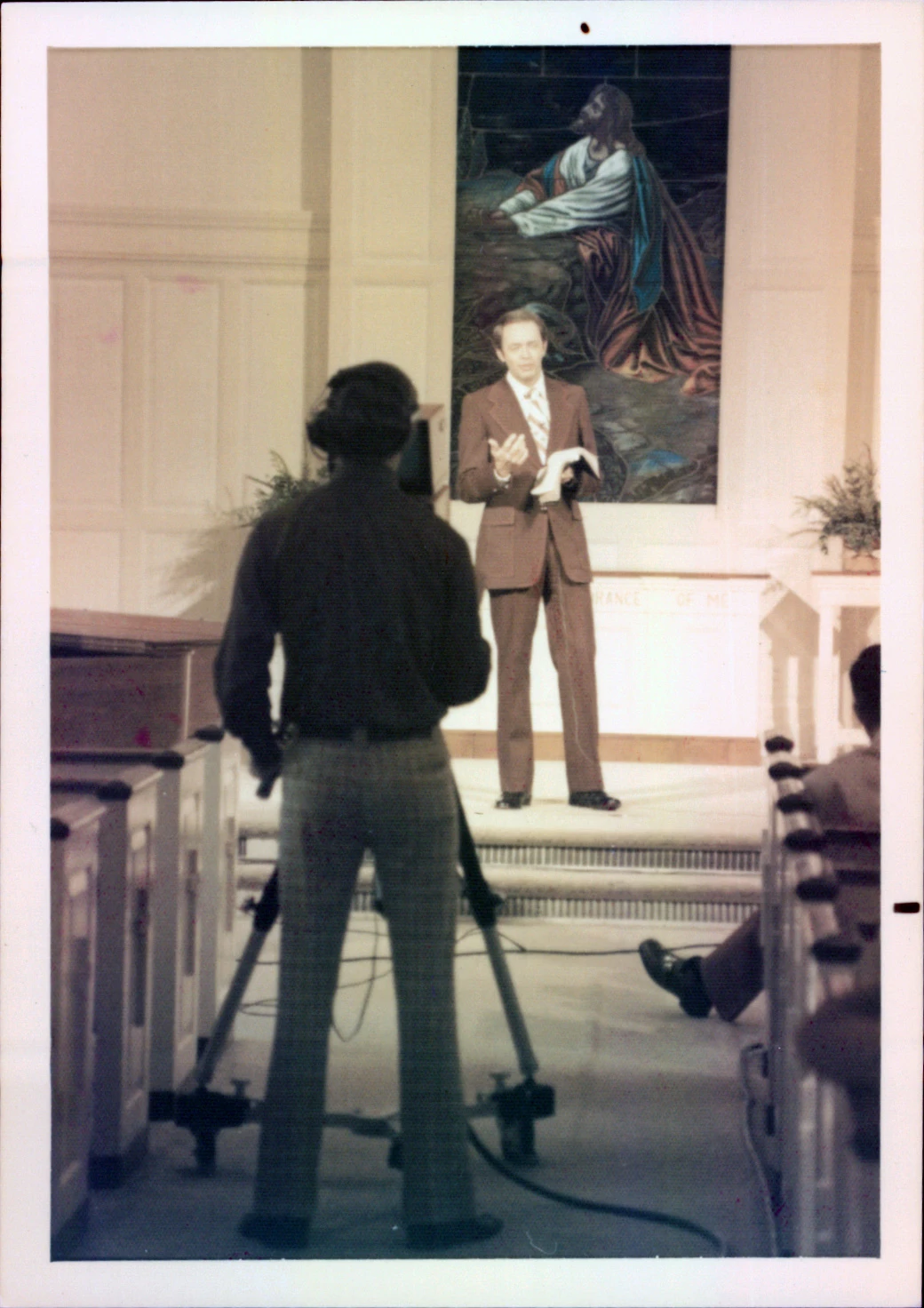 Filming the Chapel Hour
42 / 55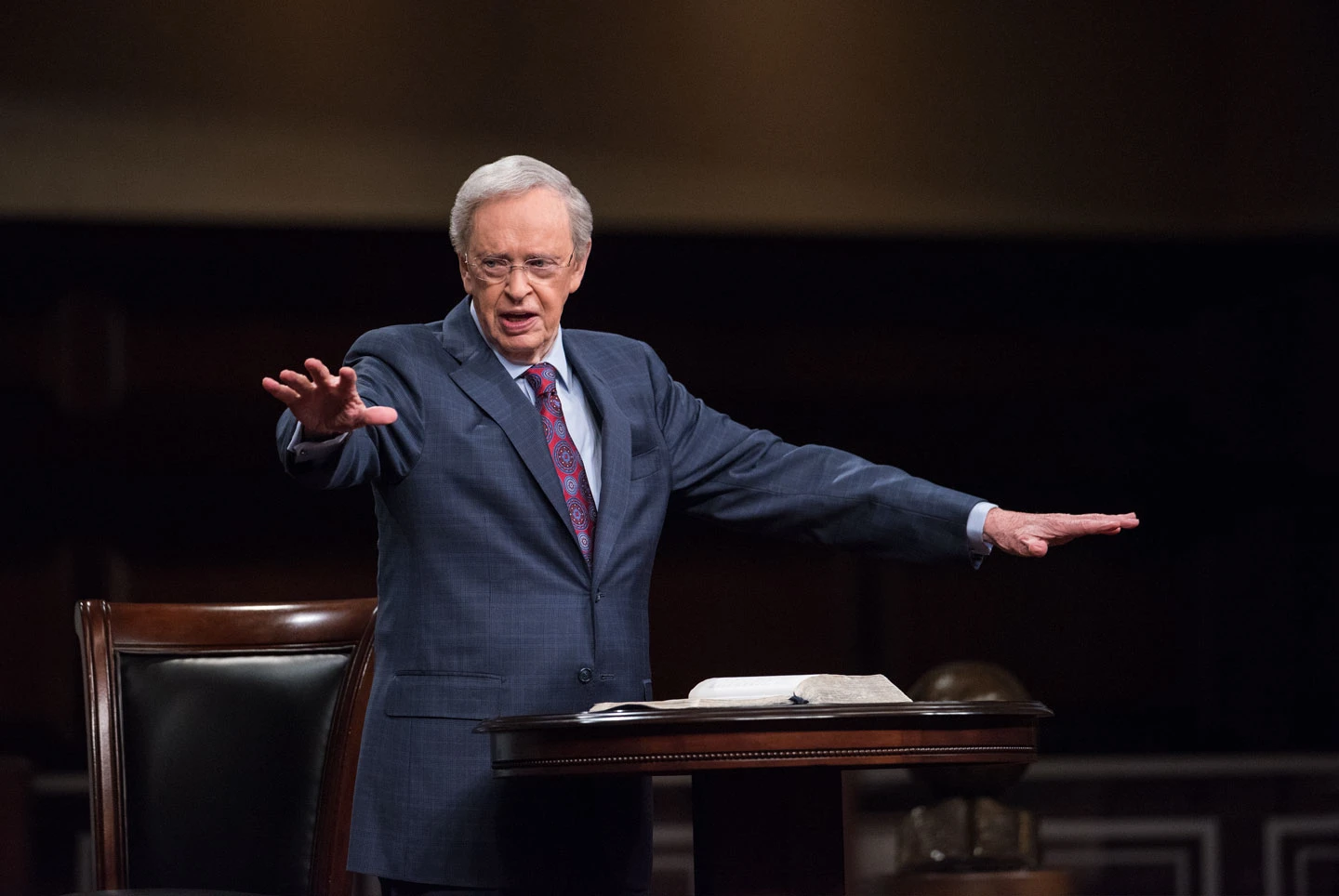 One of Dr. Stanley's favorite verses to quote in a sermon was Psalm 103:19, "The Lord has established His throne in the heavens, and His sovereignty rules over all."
43 / 55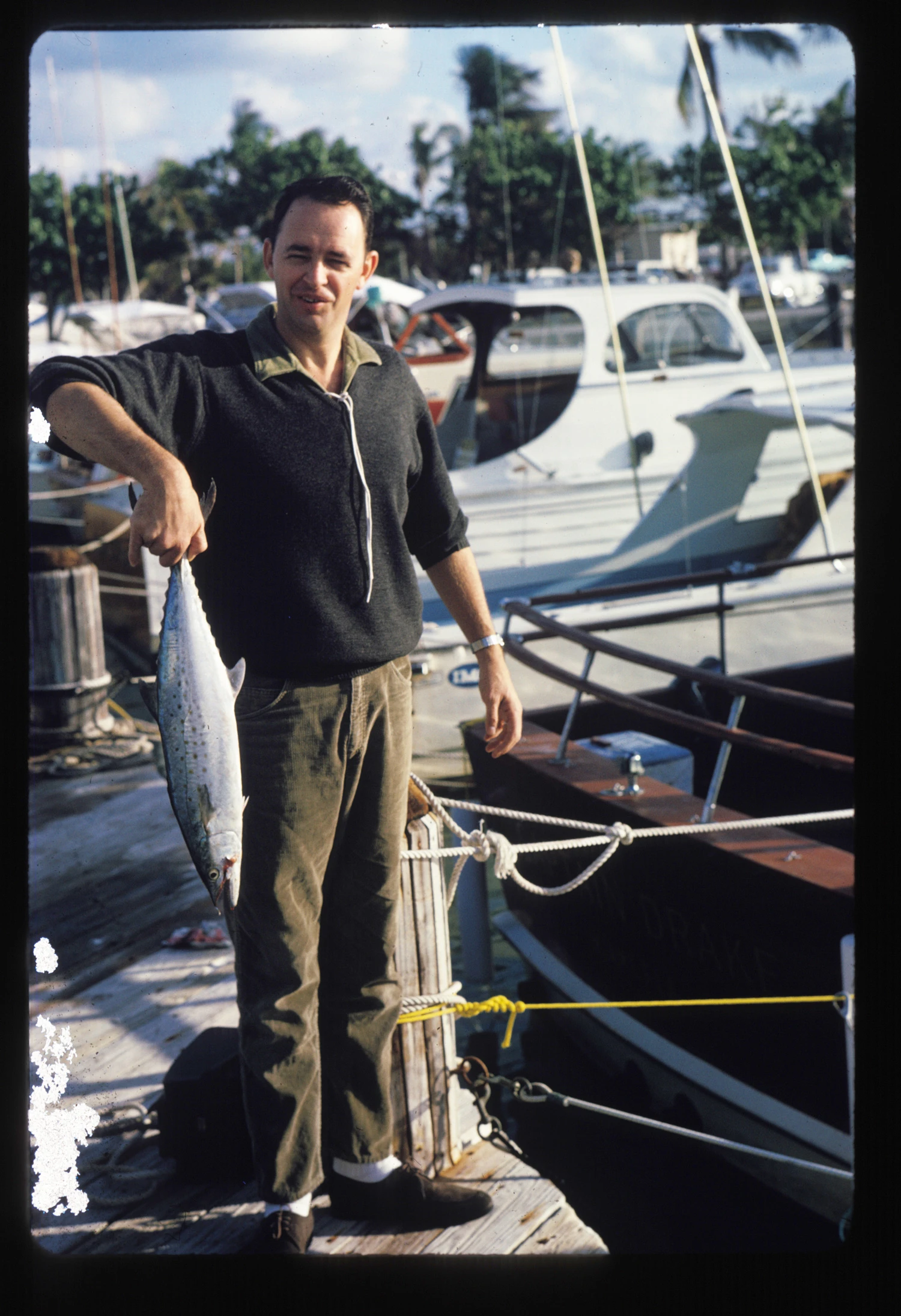 Along with photography, Dr. Stanley loved the outdoors and fishing.
44 / 55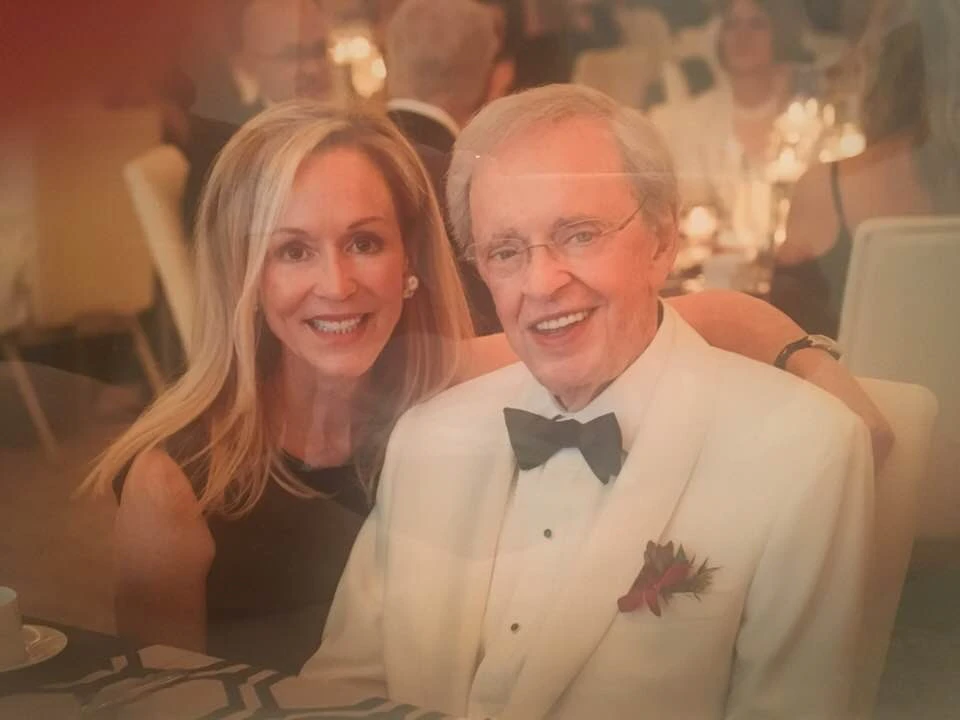 Dr. Stanley and his daughter Becky
45 / 55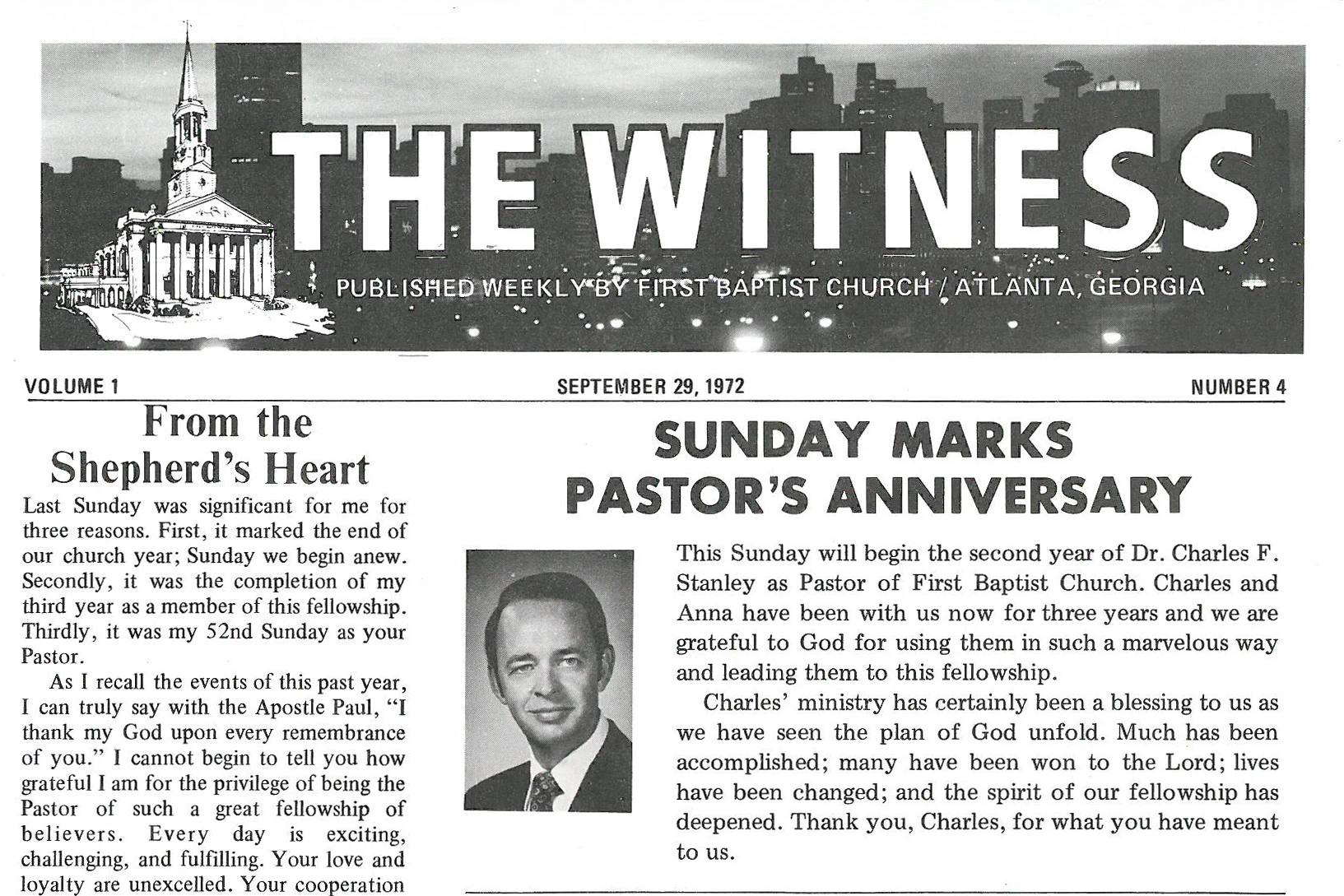 What would become the "From the Pastor's Heart" letter began as a letter to First Baptist Atlanta, "From the Shepherd's Heart."
46 / 55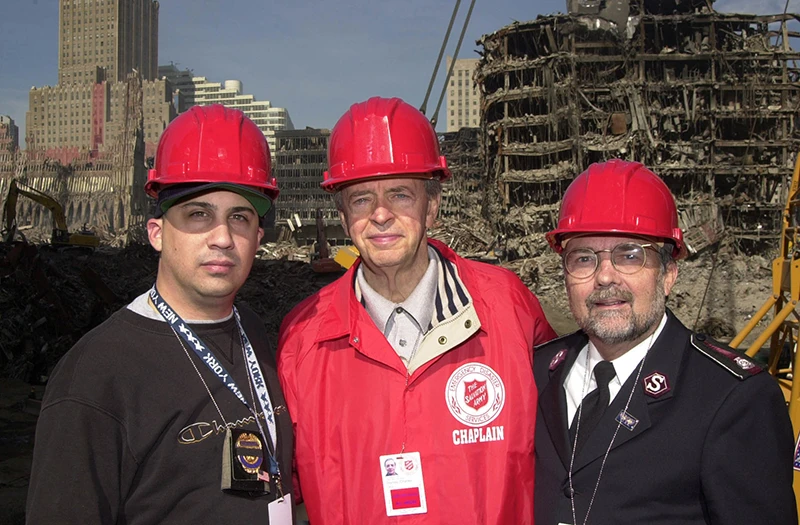 After the 9/11/2001 terrorist attacks, Dr. Stanley traveled to ground zero to minister to the workers there.
47 / 55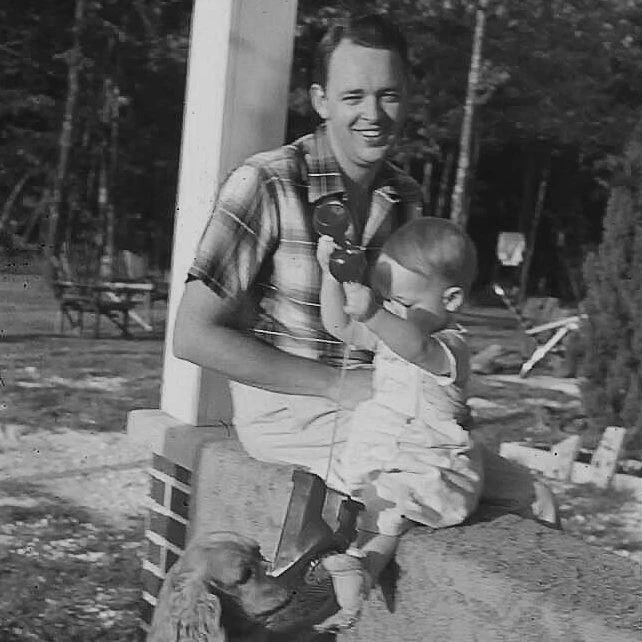 Dr. Stanley, Andy, and their puppy.
48 / 55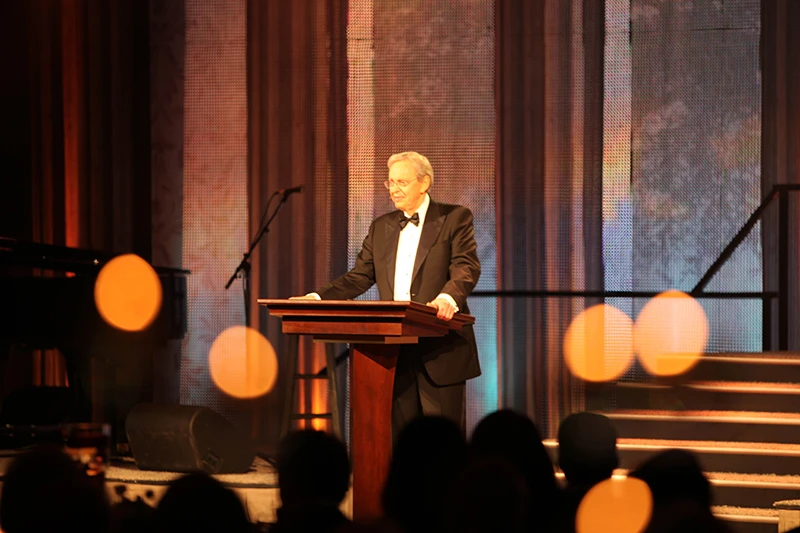 Dr. Stanley celebrating his 80th birthday, 55 years in ministry, and 35 years of In Touch in 2012.
49 / 55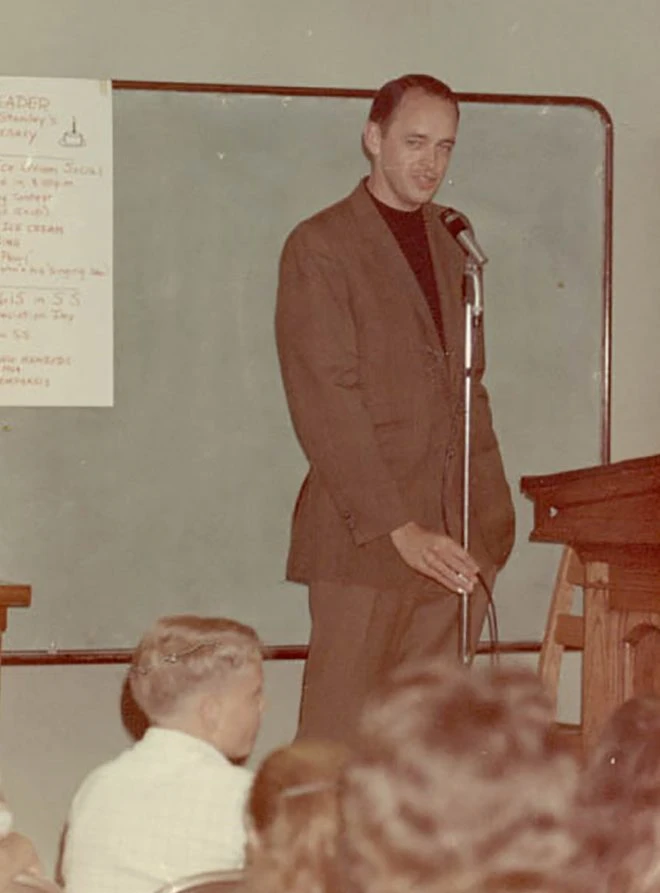 Children or adults, Dr. Stanley was glad to teach about Jesus to whomever would listen.
50 / 55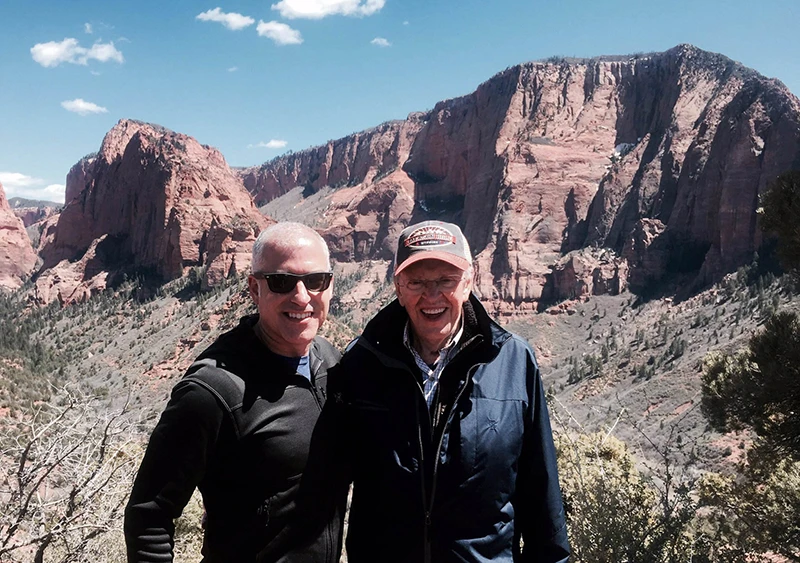 Dr. Stanley on a photography trip with friend and In Touch CEO, Phillip Bowen.
51 / 55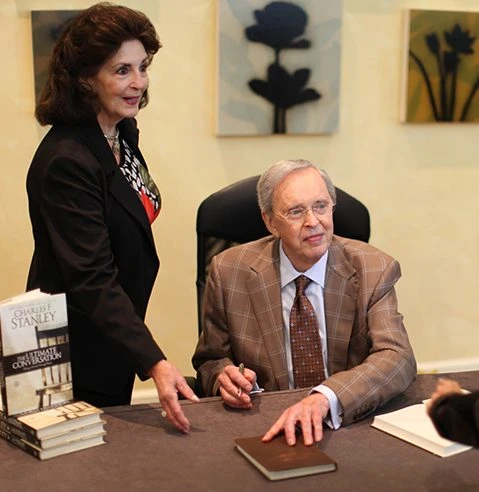 Throughout his life, Dr. Stanley wrote more than 70 books.
52 / 55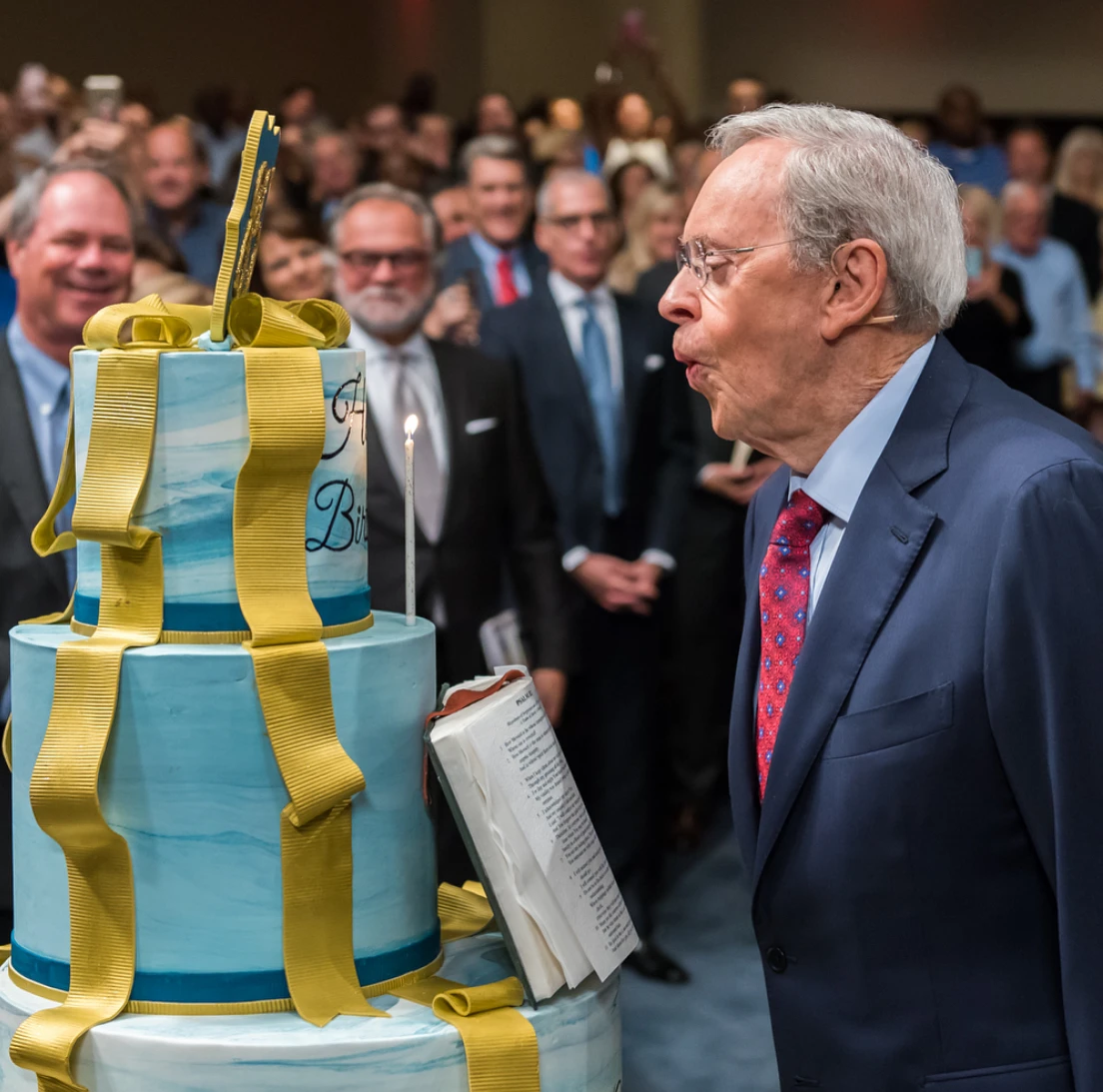 Dr. Stanley celebrated his 85th birthday with the congregation of First Baptist Atlanta on September 24, 2017.
53 / 55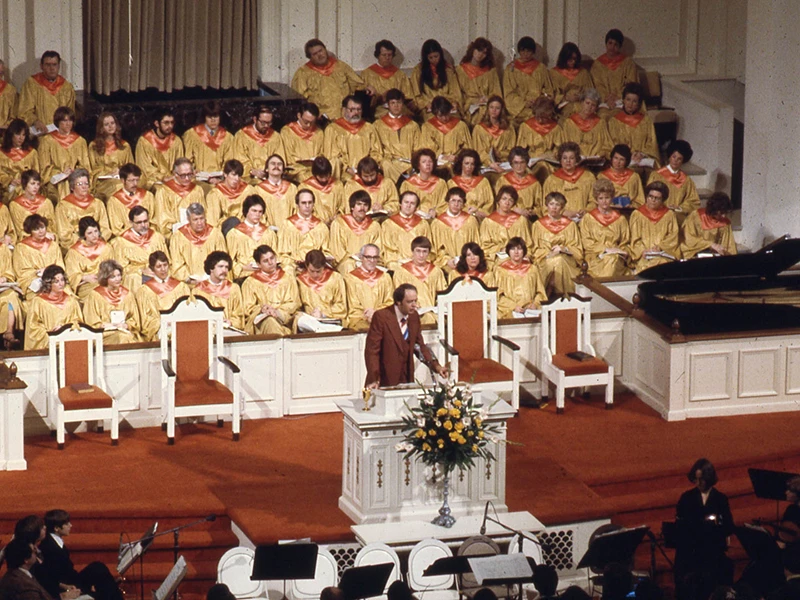 Downtown First Baptist Church of Atlanta
54 / 55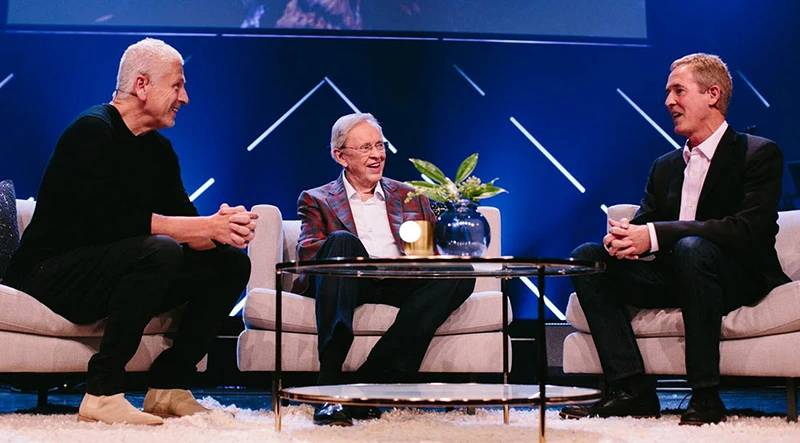 Louie Giglio, Dr. Stanley, and Andy Stanley talk about ministry.
55 / 55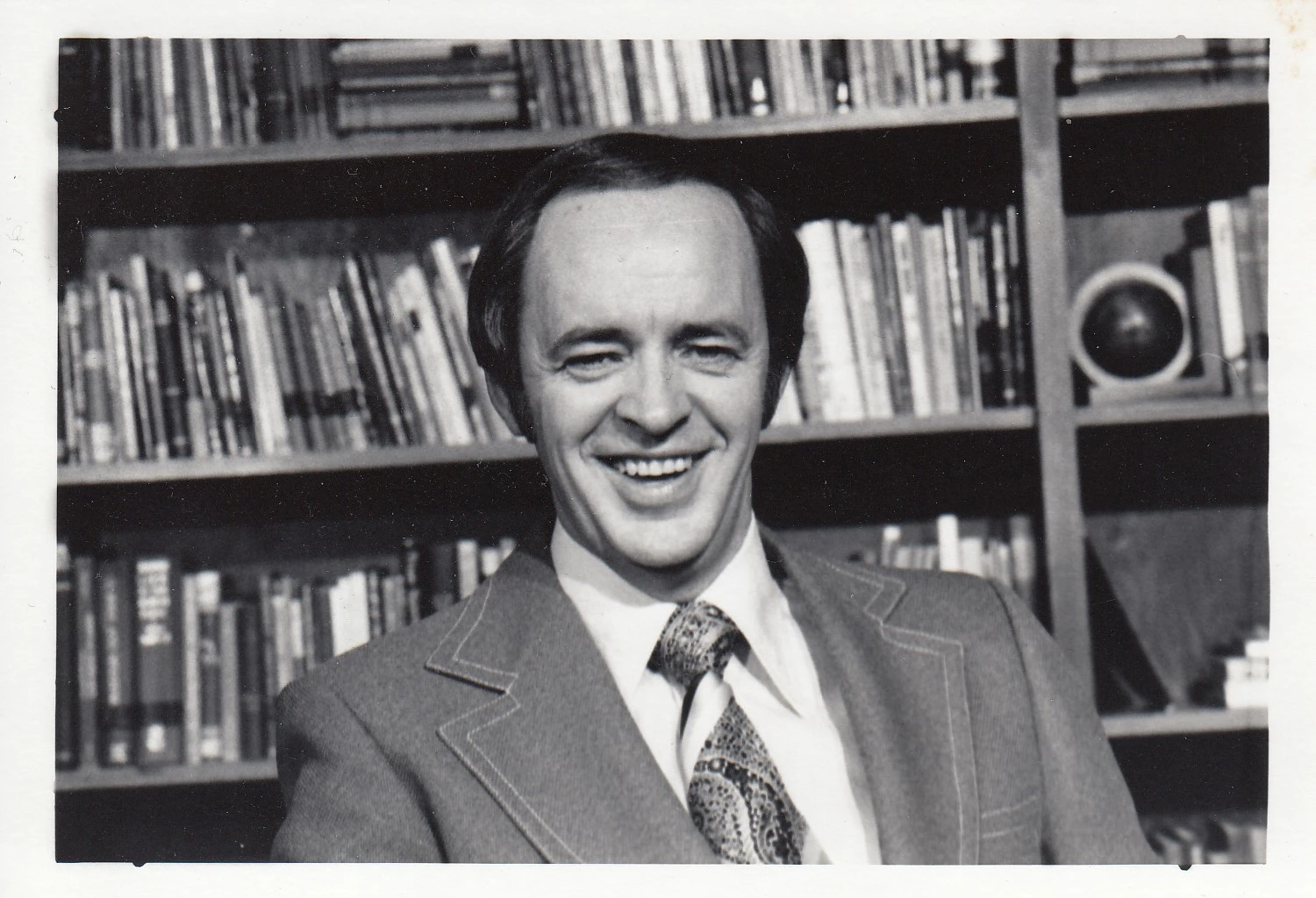 Dr. Stanley was a person who clung to the joy and strength of God regardless of what happened.
Photos of Charles F. Stanley
Celebrating a Life of Obedience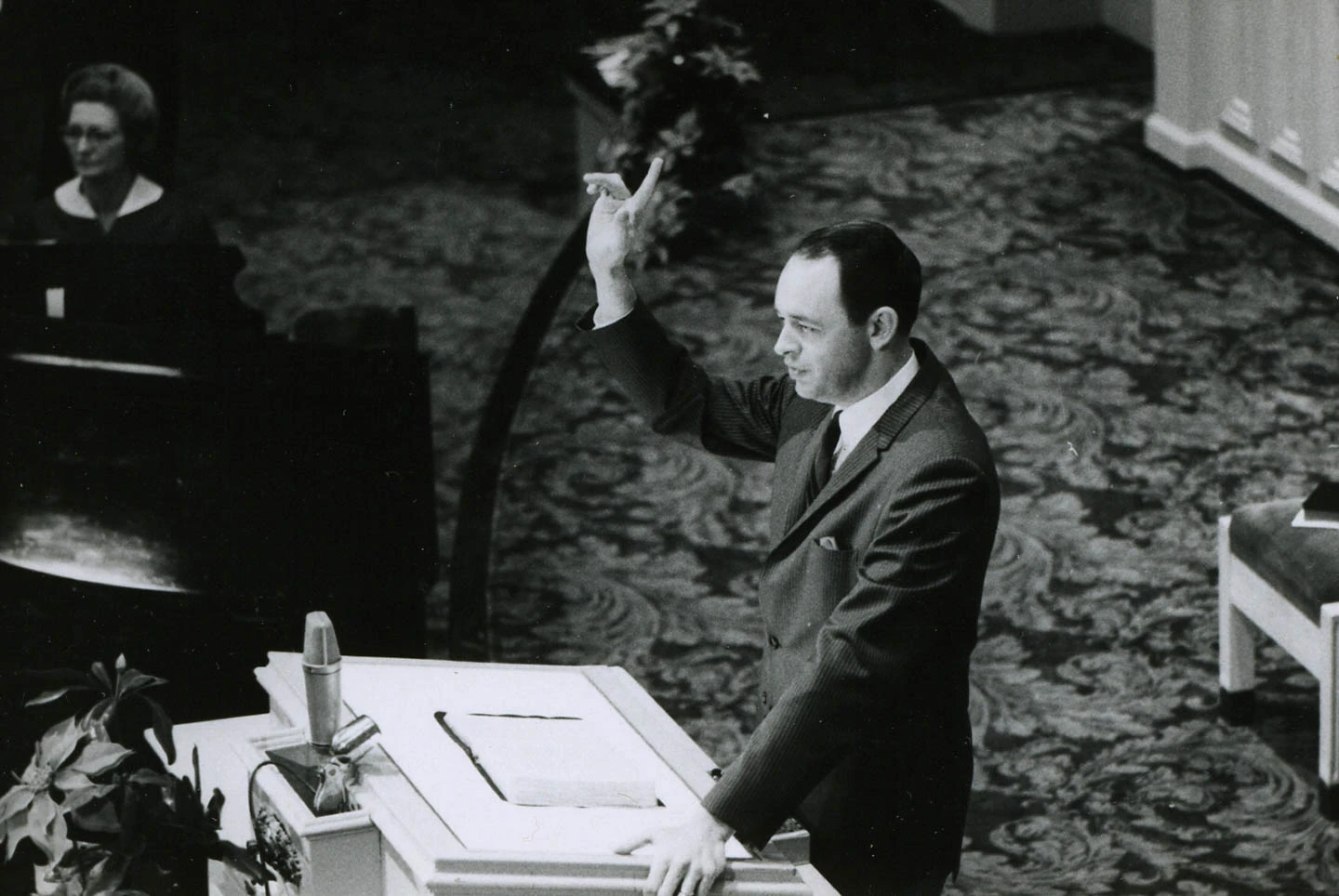 Take a walk down memory lane with these personal photos of Dr. Stanley.
Dr. Charles F. Stanley Through the Years